King's-Edgehill School (KES) students have the opportunity to see and explore the world in ways that would make even the most travelled of globetrotters envious. While many of our international excursions are were completed over the longer March Break, our junior classes will be exposed to fulfilling adventures closer to home in the coming weeks. This month, our junior classes: Grades seven, eight and nine, have three exciting trips planned.
Our Grade seven class will leave their mobile devices behind for an overnight nature adventure at Camp Brigadoon, located just outside Kentville. The camp is a great team building event and a leadership opportunity for the selected Grade nine students who assist on the trip. Whether it is through canoeing on the water, exploring the woods, singing around a bonfire or by participating in various arts and crafts, this beautiful camp is sure to ignite a lifetime of memories for our Grade seven students.
And while our Grade sevens revel in the magic of Camp Brigadoon, our Grade eight students will take part in an exclusive cultural and educational trip, by bus, to historic Québec City this week. This adventure promises to be a wonderful experience rich in culture, learning and friendship, and one that historically has been one of the highlights of the junior school years.
The French language will come alive as students immerse themselves in the rich culture of this beautiful historic city. Some of the historic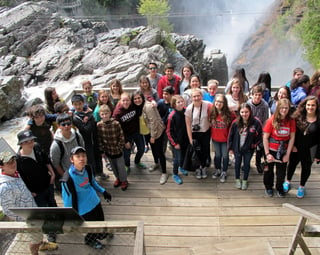 sites and activities that students will have the opportunity to visit include:
Grade eight students will need to record the details of their day-to-day experiences while in Québec City in a journal, complete with photographs that capture their trip's highlights! This journal will be submitted for evaluation upon return to the school.
The Grade nine students of King's-Edgehill School will be travelling in the opposite direction from their Grade eight peers as they travel by bus to Prince Edward Island. The students will be staying in Summerside, PEI and taking advantage of many educational and cultural activities, including visiting Founders' Hall in Charlottetown and exploring the exhibitions that illustrate the Confederation of Canada.
Students will also be given the opportunity to explore the island's natural history as they discover Cavendish National Park and enjoy one of the island's famous lobster suppers.
Seeing the smiles and hearing the laughter of our KES students as they embark on these and similar journeys is how we measure the success of our school trips. Our students are excited to plan, prepare and participate in our school trips, and are just as excited to share their experiences and what they have learned with their peers.
KES students have wonderful opportunities to get out of the classroom and learn from the world around them. Check out fantastic photos from around the world and read more about all the places that KES students travel by downloading our free eBook, Oh, the Places You'll Go!