There is something special about coming together as a group to celebrate successes, to share talents, to better understand differences and to cheer one another on. Many Fortune 500 companies know the value of team gatherings, from the morning cheer to the annual sales conference, getting together to share and celebrate is a key ingredient of thriving groups.
At King's-Edgehill our school assemblies are weekly events greatly anticipated by students as well as faculty and staff. Every Wednesday the junior school meets in the auditorium to celebrate individual and group successes and every second Wednesday the entire school meets for an assembly in the school auditorium.
While no two assemblies are alike, there are some common threads.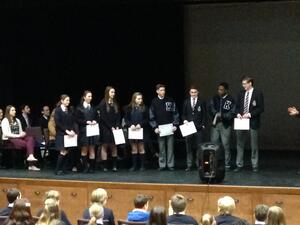 Faculty, coaches, and staff regularly share updates on clubs, teams, trips and countless other opportunities open to our students.
We always take time to celebrate awards and honours the students have achieved. This could include athletic awards, leadership awards, academic honours and more.
At King's-Edgehill School we're fortunate to have a truly international community. With more than 20 different nationalities represented at King's-Edgehill, we have the opportunity to learn so much from each other. Assembly creates a wonderful opportunity to live out our commitment to global education by showcasing the home and culture of one of our international students at each Junior Assembly.
Assembly can also be an opportunity for a guest speaker to visit the school.
Leading up to exams our students are offered an exam prep and study tip session as part of our assembly.
At King's-Edgehill School there are countless opportunities for our students to perform. We have regular school musicals, a choir, several bands, a debating team, several coffee houses and more. Assembly offers another opportunity for students to take to the stage to share their talents.
Then there are less expected announcements at Assembly, like the Promposals that happen this time of year!
To learn more about our daily activities at King's-Edgehill School why not download a copy of A Day in The Life, our Photojournals that bring the typical day to life.