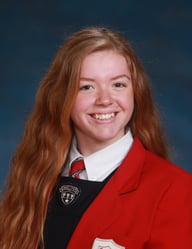 Grade 10 King's-Edgehill student Sophie Fraser knows what makes a good science project. She knows because she won an award for her science project about a cap to be worn under hockey helmets that can diagnose and detect a concussion.
By combining her passions of hockey and science, Sophie created a device that is designed to show the force and impact of a concussion. Her invention is not only a game-changer, but won a silver medal in the Canada wide science competition and the Discovery Award for top student in the science fair process. Her project was recently featured on CTV News.
We asked Sophie to share with us her thoughts on science fairs and discuss what she feels makes a good science fair project. Here is what she had to say:

Why do you enjoy science fair?
I enjoy science fairs because typically it is a type of project that encourages you to work really hard over a given period of time, helping students understands that with hard work come results. Creating a good science fair project tests your creativity, scientific understanding, and presentation skills while giving students the opportunity to discover their love of science and compete with other young scientists from across the nation.
Why do you think you do well, what is your secret to success?
I think my secret to success was finding a topic that I was passionate about; however, I think that having strong presentation skills was also very important.
What tips do you have to other students for:
1) Selecting a topic:
When selecting a topic I think the most important part is finding something that you will enjoy learning about and basing your discoveries off of. Also if you're looking to do well at the regional and/or national level it is very important that your project has some sort of discovery aspect.
2) Getting it all done in a timely fashion:
Don't leave it to the last minute! Being prepared and getting stuff done early will not only make you feel better about your project and give you time to work on your presentation but it can help you with taking your project to the next level as it gives you more time to make discoveries and if you still have questions left unanswered it allows you time to conduct further testing.
3) Creating an effective presentation:
Knowing your topic definitely makes the presentation portion of science fair much easier but knowing how to present your topic is equally, if not more, important. You should be able to sum up your project in 2, 3, 5, and 7 minute presentations and a summary is exactly what it is. You don't want to give too much information but you also want to demonstrate the work that you have done, finding the perfect balance will be different for every project but practicing in front of friends or family and using their feedback can be helpful. Judges will often share some feedback and applying their advice to your next presentation can go a long way! Don't be afraid to refer to images or models during your presentation to keep the judges interested.
4) Presenting to judges:
It's impossible not to be nervous, no matter how much you've rehearsed and read over your project, so when the time comes to present to the judges try to remember that they aren't there to make you feel bad or criticize your project they simply want to give you the opportunity to teach them about your topic. I feel the three most important things when it comes to judging are; speaking clearly and calmly, making eye contact with your judges, and having confidence and a good attitude.
What is the hardest part of science fair for you?
For me, the hardest part of science fair was always coming up with an idea because not only did I want to test something that had never been tested or create something new but I wanted to do something that would have real world applications and ultimately lead to something that could be used for further knowledge or as a working product.
What have you learned by being a part of local and national science fair competitions?
I have learned how to become a strong presenter and attending those fairs gave me the opportunity to learn about different scientific fields, meet lots of great professors, and explore different universities.
What was one tip you learned at regional or national science fair?
A tip that I learned while participating in science fairs, was that it's your project and therefore no matter who you are presenting to, whether it be university professors or highly credible scientists, it's you who knows the most about your project so have confidence in your work and don't be intimidated or start questioning yourself before you present.
Anything else you want to share to aid students with their science fair projects?
If at first your idea does not work, keep trying, make alterations, try a new approach, and just don't give up if things get a little difficult!
If you are considering Private School, you likely have questions, and, we have answers. We've captured questions to commonly asked questions about private school here – download them now.