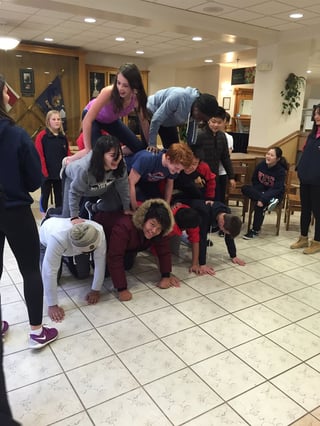 There are many reasons KES boarding students choose our school. Our academics, athletics and extracurricular activities are just a few of the reasons and similar to why our day students choose to learn at King's-Edgehill School. Our boarding students choose KES because they believe in the private school principle and in the opportunities a school such as KES will give them.
It's never easy leaving home – for both the parents and the students, but selecting a friendly and welcoming boarding school such as KES ensures all students are encircled in a warm community of like-minded people. At King's-Edgehill School this community extends beyond the campus' 65-acres and includes the entire Windsor, Nova Scotia area.
Windsor, Nova Scotia is a safe community that is alive with many recreation activities for all seasons. This English-speaking town is known as the birthplace of hockey, since the sport had its humble beginnings here as early as 1800 on Long Pond. King's-Edgehill fosters the sport by offering outstanding hockey programming for all experience levels and for both girls and boys.
In addition to hockey, KES offers many activities designed to appeal to the interest levels of all students, including various sports and athletic programming, music programming and arts programming. Some of this programming continues throughout the year, even on school breaks, which means there is always something to do on and off campus!
Although the dormitories are closed during Christmas break, for all other breaks boarding students are encouraged to enjoy our rich programming which often include the opportunity to travel, serve, enjoy and challenge oneself! Not all boarding schools offer enriching opportunities outside the classroom, let alone off campus! At KES, we pride ourselves on educating and nurturing boarding students by offering them exciting programming and activities that they look forward to. Some of our holiday events include visiting a giant corn maze and participating in the world famous pumpkin regatta parade at Thanksgiving!
Whether a student is here on school breaks or on weekends there is always something for them to do. Of course, not all activities are challenging and, especially on weekends, there is time for students to relax and have fun with their fellow boarders. On weekends, KES offers boarders hikes, outdoor trail rides, skiing, and sightseeing.
KES also offers ESL Summer programming that provides international students with an opportunity to learn and improve their English through a variety of activities both in and out of the classroom. Along with an academic component, the ESL Summer School also offers activities such as whale watching, camping, kayaking and horseback riding.

There is always something exciting to do at KES and boarding students have access to all of it! For more information, contact us and arrange a tour of the KES campus and meet some of our amazing boarding students!