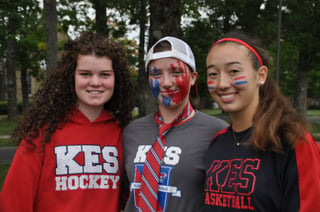 There are many reasons day students choose to attend King's-Edgehill School rather than their local public school. For many it is as simple as craving a more structured learning environment or knowing that a school such as KES will better prepare them for their post-secondary studies. For other students, they know KES will enrich their educational experience by focusing on an academic setting that emphasizes specialties such as art, music and athletic programming.
Day students and their parents choose King's-Edgehill School because there is not only plenty of opportunity for student run activities and involvement, but also ample opportunity for parents to get involved. Often parents, staff and faculty have a shared approach to students' education, meaning they are more involved, which can benefit a student's overall academic success.
King's-Edgehill School offers small class sizes for all students. We also offer a varied approach to course selection that is designed to benefit the student regardless of their academic goals and career objectives. Starting in Grade 6, KES Junior School students are given personalized attention and are encouraged to develop a strong academic foundation that ensures they are prepared for the rigour of Senior School.
Also starting in Grade 6, as Junior students, KES students enjoy technology-enhanced classrooms, one-to-one iPad programming, a science laboratory, a spacious art room, music rooms, computer centres, as well as a gymnasium, impressive athletic programming, wooded trails through 65 acres, and much, much more.
Starting in Grade 10, Senior Students then take the knowledge and skills they learned in Junior School and decide their academic track. Senior Students can opt for Honours' Courses by subject domain, which means a student who has not been in the Honours' Class in the Junior School is not prevented from attempting the enriched classes later.
KES students can also choose to pursue the International Baccalaureate (IB) Programme, which is an advanced academic stream that plays an important role in international university placement. It is this access to the IB Programme that also makes KES a school of choice for day students. It is an internationally renowned programme that is known to produce some of the world's top scholars and is not offered at all schools.
In addition to superior academic programming, KES also offers students unique leadership opportunities, including an opportunity to earn the Duke of Edinburgh Award as well participate in Cadets, a program known for its history, discipline and character building.
While there are countless reasons day students select KES as their day school of choice, one more reason is our seamless transportation to and from school thanks to three shuttles. As well, KES offers transportation to and from sporting activities, such as to and from a ski hill every day throughout the winter months.
There is no doubt that King's-Edgehill School offers day students many reasons to learn at our school. For more information, contact us and make an appointment to view everything our school has to offer.