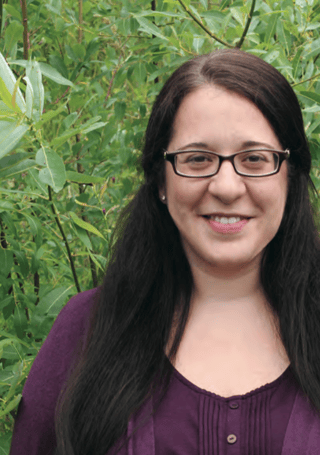 In Greek culture, the director of a play is called didaskalos, the Greek word for "teacher". It refers to an instructor acknowledged for their mastery in their field of learning. For Toven MacLean (1994-2001; KES faculty 2007-present) the connection between directing and teaching is a natural one. She is passionate about both and continues to inspire and direct many young minds in the classroom and on stage.
A King's-Edgehill School Lifer graduating in 2001, Toven was a creative and capable student who, after studying at Mount Allison and Acadia Universities, returned to campus in 2007 as a Junior School teacher, where she continues to make an impact as a Drama, Mathematics and English teacher. In her first year on staff, Toven directed the first-ever Junior School musical, Fiddler on the Roof, in the newly opened Fountain Performing Arts Centre. It was a first in the history of our School and the beginning of a Junior musical programme that rivals the best in the country. Hundreds of Junior School students have made their KES stage debuts since then and, thanks to Toven, have lifelong memories to recall about their theatrical experiences. Great Broadway hits such as The Sound of Music, Annie, Once on This Island, Into the Woods, Oliver!, The Wizard of Oz, The Music Man, and, most recently, School of Rock came to life on our KES stage under her direction, always meeting with rave reviews.
Ms. MacLean's love of theatre has motivated many beyond the Junior School. She is currently the Artistic Director for Quick As A Wink Theatre and, since 2013, has taken over the direction of our KES Senior School musicals. To date, she has directed over sixty productions. As a Grade Eleven student, Toven directed her first show -- Annie -- at a local elementary school. Since that time, she has directed shows with schools, summer
camps, and community theatres. Yet, in spite of her tremendous theatrical success, Toven
remains humble and never seeks recognition.
She is a talented, committed and inspirationalleader whose outstanding contributions to our community are appreciated greatly. From London to New York, she spends her vacations enjoying musical productions and garnering ideas to try on our King's-Edgehill stage. I have watched Toven work her magic as she
inspires students, encouraging them to take risks and grow in confidence and ability. She has the artistic vision, passion and ability to create wonderful productions and to inspire novice and experienced thespians alike. From casting to choreography, lighting to costume design, Toven lends her expertise to every aspect of a production, always giving her time selflessly. With her quiet confidence and calm demeanour, she brings out the best in everyone who steps on stage. Toven MacLean knows her craft, and we know how lucky we are to have her in our midst!
You'll find countless opportunities to express your artistic interests at our school. The arts make up one of the essential four pillars of a King's-Edgehill School education.
This article was originally printed in the Alumni magazine, read more alumni stories here: https://bbk12e1-cdn.myschoolcdn.com/ftpimages/459/misc/misc_193060.pdf