Did you know that all Grade nine students at King's-Edgehill School participate in the respected Duke of Edinburgh Award Programme? This prestigious challenge is open to all young adults between the ages of 14 and 25 and addresses four key areas: volunteer community service, hobby or skill, physical fitness, and outdoor adventure.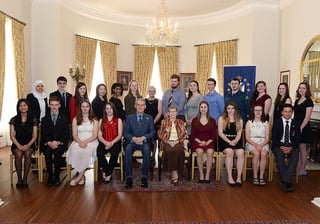 The Award is broken down into three levels: Bronze (participants must be 14 years of age to begin), Silver (participants must be at least 15 years of age to begin) and Gold (participants must be at least 16 years of age to participate). The goal of this award programme is to encourage young people to equip themselves with life skills that will make a difference to themselves, their community and the world. The Award is available in every Canadian province, but is segmented into ten divisions. Achieving the Duke of Edinburgh Award requires continuous discipline, commitment and hard work.
Recently, two KES students were awarded the Silver Duke of Edinburgh Award – Emma Belliveau and Kenny Osmond, both of whom received the Silver Award during a ceremony with the Lieutenant Governor of Nova Scotia at Government House on March 31, 2016. The Lieutenant Governor is the Honorary Patron of the programme in Nova Scotia.
Winners of the Silver Level Award demonstrated consistent commitment in Service, Skill and Physical Recreation for a minimum of six months. They also completed the Adventurous Journey of three days and two nights. It takes a minimum of six months to achieve the Silver level. Congratulations Emma and Kenny!
As Emma and Kenny proved, KES makes taking part in this award challenge achievable by offering many opportunities for students to get involved and to be active. KES Grade nine students are also given dedicated class time through a leadership class that is designed to specifically work towards this award.
During His Honour's remarks he said, "The skills and life experience acquired through this programme assist our youth in forming healthy practices and in appreciating the value of giving back to their community early in life. Ultimately, this translates into a strong foundation for adulthood. This is both the goal and the greatest strength of the programme.
It is our hope that Emma and Kenny and all KES students will continue to work hard at all levels of the Duke of Edinburgh Award programme. The skills, responsibilities and personal growth that come from participating in this challenge is second to none. Participants have until their 25th birthday to complete the Award. For more information on The Duke of Edinburgh's International Award in Canada visit: https://www.dukeofed.org/about-duke-of-edinburgh. Or to learn more about our school, download, A Day in the Life of a Day Student.