Two thumbs up, way up, for School of Rock! This year's Junior School musical production, School of Rock, was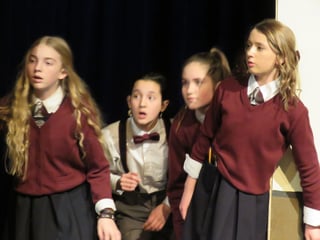 amazing! King's-Edgehill School was the first school to secure the rights for this new Broadway hit musical, and it was the perfect choice for our talented Junior School musicians and performers.
The four-show run was cut short by an unfortunate car accident involving our pianist and pit band director, Mr. Steve Roe. We were all relieved to hear that he was not seriously hurt and is recovering with a broken hand. The good news is that the show will go on with two additional performances slated for April 28th and 29th.
If you didn't get to the first two performances, mark your calendar. The thirty-member cast rocked the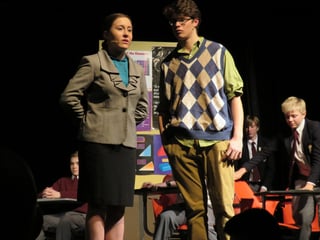 Fountain Performing Arts Stage with their energized singing and dancing performances. You could feel the passion as the music transformed the characters and the audience.
Special thanks are extended to each member of the cast and crew, the musicians, the choreographers and the many hands that made this show such a success. It was tremendous to see so many student volunteers giving their time. Hats off to our director, Ms. Toven MacLean, for her exceptional abilities putting this show together and providing wonderful memories for years to come for so many of our students.
There's always something exciting going on at King's-Edgehill School, it's in the air. You can hear music in the halls, smell healthy meals cooking, see original artwork and performances and feel the energy of students who love to learn. Experience it for yourself! Plan your visit here.