To ensure every King's-Edgehill student leads a healthy and active lifestyle, all students are required to participate in sports every day after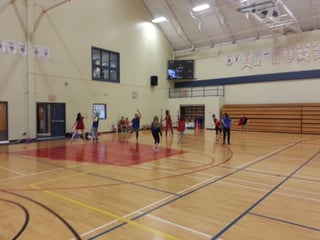 school. Students are also required to change up their sport based on the term. To keep the variety fresh and to appeal to everyone's diverse tastes in sports, we offer more than 25 different seasonal sports throughout the year!
Our focus on sports comes from the belief that young people who participate in sports gain more advantages over those who do not participate, including higher overall GPA achievement, higher Math and English testing scores, fewer school absences, and higher levels of enrolment in university. Participating in sports also allows students to learn life skills including how to make friends, how to organize their time, how to problem solve, and it gives students the opportunity to demonstrate leadership skills.
New to KES this spring is Ultimate Frisbee. This fast-paced, non-contact sport is points based and a player scores by passing a disc to a teammate in the opposing end zone. Ultimate Frisbee has gained international popularity since it's beginnings in the late 1960s and is compared to the likes of American football in its pace and in how points are collected. Like most serious sports, Ultimate Frisbee has an international governing body, international tournaments, and it is likely to be added to the Summer Olympics very soon.
To succeed in Ultimate Frisbee, players must think strategically, be a team player, be quick on their feet, and have a strong arm and quick eye. One game of Ultimate Frisbee will leave a player feeling energized!
Participating in a sport such as Ultimate Frisbee encourages healthy habits, teaches the importance of teamwork, and equips students with mental sharpness and self-confidence. In addition to Ultimate Frisbee, spring sports at KES also include badminton, equestrian, cycling, Ping-Pong, rugby, and softball, to name just a few.
Because we understand that some students thrive as part of a team while others prefer to compete individually, we offer both types of competition; particularly in the areas of cycling, swimming, and track and field. The idea is to encourage students to challenge themselves, try new activities and learn the benefits of living a healthy and active lifestyle.
At KES, we believe there is a sport for everyone of any age, any ability, and at any physical level! If you would like to learn more about the various athletic programs and sports offered at KES, we encourage you to download the Athletics at King's-Edgehill School Photo Journal