Years from now, we will look back on the COVID-19 lockdown and remember where we were, what we did, and how we coped. Some will be able to say, "I made a difference for someone else during this difficult time." It is true that one of the best ways to deal with the uncertainty and anxiety associated with the pandemic is to focus on helping others. I have discovered that several of our students quietly are doing just that.
Fox Sullivan
,
Hunter Hood
,
Dami Adeniji
and
Chaz Faucher
have taken advantage of spring afternoons to get outside in their respective communities and pick up garbage.
Isabella Barker
is focusing on greening up her community as well through a highway clean-up program. She complements her outdoor activities by making creative cards of caring for the elderly and lonely.
Eva Palov
has dedicated hours of her time as well to card creations that spread messages of support and hope. And there are many others who do the same. Students don't have to look far to find meaningful ways to help others.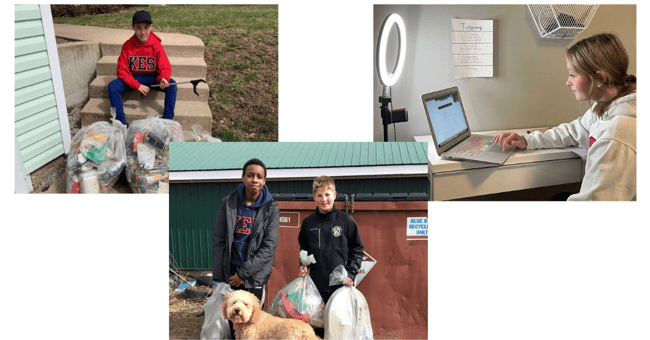 Online learning presents real challenges for many students. How wonderful that students like
Elizabeth Hardy
and
Sadie Junger
remain committed to helping our younger KES students at a distance. But it is not just our students who are receiving support; young elementary students through the Hants Learning Network program continue to receive tutoring, now online, from our student volunteers.
Claire Morton
and
Danica Scully
enjoy their virtual teaching time with their young students. Recently, Danica told me that, thanks to her Facebook postings, she is currently doing 8 sessions per week!
From teaching Grade 1 French to Grade 4 English and Math, Danica says, "I absolutely adore young kids and contributing to their success makes me feel so great." She shared that the pandemic has made her desire to volunteer stronger and, with more free time in her usually busy schedule, she wants to do everything she can to help others at a time when so many are in need. Danica summed it up like this: "To know that in these unprecedented times I even slightly benefited a kid or made their parents' life a tiny bit easier is such a gratifying feeling." Perhaps the best thing about showing kindness is that it is contagious. We have heard that "kindness spreads faster than the virus" and our students are doing their part in exposing the pandemic's silver lining.