There was a moment at this Tuesday's Remembrance Day ceremony when the mother of a soldier killed in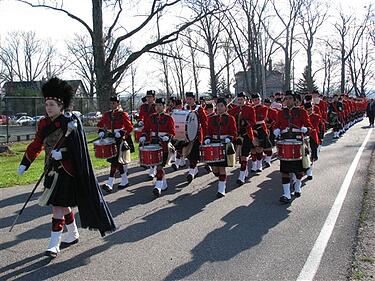 Afghanistan was invited to place a wreath at the Town of Windsor's cenotaph. At that moment I heard my wife Belinda whisper "Oh dear." And then we both began to weep quietly.
Remembrance Day has the ability to slice through glorifications of war and to expose its brutal realities. For our youth, particularly the young men who are so enamoured with virtual battlefields on their X-Boxes and Playstations, it is essential cognitively and emotionally that they appreciate the consequences of conflict. War is not a game. Actual soldiers do not magically spawn and re-generate. The sacrifices made by those who serve are very real and relevant in today's world.

Perhaps the hardest part of Remembrance Day for our students is not the parade itself, or remembering our RSM's instructions, or playing a musical instrument while walking. The most difficult thing for our students is standing still. Paying respectful attention is important for all of us. It is a skill that must be learned. I was pleased and proud of our students, especially the four who stood vigil at the cenotaph. Liam Hogan, Connor Redden, Cameron Tobin, and Henry Lockyer stood on silent watch under the eyes of several thousand people for over an hour on Tuesday. Truly remarkable.
Sincerely,

Joe Seagram
Headmaster