A new year is always rejuvenating. It is a chance to start fresh. I must admit however, that as I watch and read the national news, my happy 2015 spirits have been dampened. Fortunately, there is something about the amazing students here that warms the heart and lifts everyone up no matter what is going on in the world. The list is endless, but many thanks this week to…
Brenda MacDonald (Grade 10), for reading the Prayers of the People so beautifully in Chapel on Thursday. Brenda is blind, and is also a Para-Alpine skier on Nova Scotia's Canada Winter Games team.

Rita Dorofeeva, also in Grade 10, who is playing for Russia in the IIHF World Women's U18 Championships this week. It was exciting watching her face-off against Canada on Tuesday, especially as the Junior Canadian Men had just won Gold against Russia in their tournament.
Evan Xie, a Grade 9 boy who just returned from the World Memory Games, a global competition which focuses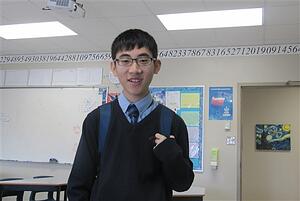 on mind sports. Evan placed 4th in four different events. He has offered to teach any of the students here how to improve their memory. How good is his memory? For example, he knows the irrational number Pi to over 100 digits, but he says he has not studied it in many years. With study he says he could memorize over 2,000 digits of Pi! Mrs. Shields tested him with a deck of cards. It took him 98 seconds to memorize the deck and be able to recite all 52 cards in perfect order.

The Senior Boys' Basketball team for showing great heart and winning their first game of the season last night.
Alex Oulton, who hopes to represent Nova Scotia in Alpine Skiing at the Canada Winter Games, for doing her very best not to miss any school despite the fact that provincial training was this week. The team will be chosen after this weekend's race. Talk about pressure. Good luck, Alex!

Miranda Walsh, who chairs a meeting better than most adults, for organizing our Youth In Action group so well this week. She has secured a time for the School to participate in a blood donor clinic next Thursday at the Windsor Legion from 2:00-3:00pm. This is a wonderful initiative. Parents and faculty are welcome to donate blood too.
Sincerely,

Joe Seagram
Headmaster