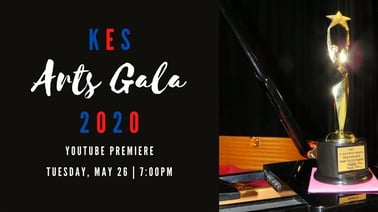 With careful planning and thoughtful input from the KES Arts Faculty, Senior students
Katie Goddard, Max Cole, and Eva Redmond
were able to put together a comprehensive and entertaining video presentation celebrating KES students dedicated to our various Arts programmes. Katie and Max co-chair the Arts Committee and hosted the online event. Fellow Arts Committee member, Eva is an expert film producer and she edited a flawless combination of recorded clips into a 30-minute video. Our in-house YouTube expert,
Mr. Pat LePoidevin,
set up the online experience to air, and when it premiered 'live' at 7:00pm on Tuesday, there were 166 viewers. As I type this, there have been well over 125 more viewers and I suspect many more before this article reaches you.
Of course, nothing beats keeping company with like-minded patrons of the Arts for an evening of celebration in our beautiful Fountain Performing Arts Theatre on campus, but I am so very pleased with the outcome of the online event. I encourage you to set aside 30 minutes and recognize the vast talent of our King's-Edgehill student body. Hopefully, we'll be back to some degree of 'normal' by the time next spring rolls around!
Enjoy the show!
MOST DEDICATED ART STUDENT AWARDS:
Music - Junior School ~

Lucy Goddard
Music - Senior School ~

Max Cole
Music - Co-curricular Bands ~

Ella Brown
Dance - School Dance ~

Ohemaa Ofori
Drama - Junior School ~

Allie Pape
Musicals - Junior School ~

Hannah Stilwell
Musicals - Senior School ~

Katie Goddard
Theatre Arts - Senior School ~

Lucas Gimenez
Media Arts - Senior School ~

Eva Redmond
Visual Arts ~ Junior School ~

Sebastian Feng
Visual Arts ~ Senior School ~

Mya Snarr
Senior School IB Programme (enrolled in the full diploma and taking one of the Arts) ~

Anna Emery

Grade 12 Art Pin Recipients
Adderley, Monae (Payton)
Alrashdan, Dalia
Ao, Di (Stacey)
Beals, Heavyn
Bouwman, Kelly
Brown, Ella
Bryant, Morgan
Cole, Maximus
Cooper, Aimee
Emery, Annalise
Fan, Baojun (John)
Fleming, Will
Fraser, Deanna
Gillis, Laura
Goddard, Katie
Huang, Yun Chi (Megan)
Kim, Hyeonwoo (Parker)
Kim, Taewoo
Kleynhans, Camryn
Li, Xinyi (Cindy)
Li, Zhihao (Robert)
Liu, Jiaqi (Selena)
Liu, Lingxi (Nydia)
Magee, Madison (Maddy)
Meyer, Teagan
Moreno Del Valle, Victor
Nelson, Samantha
Ng, Ka Wai (Crystal)
Ofori, Ohemaa
Paul, Makayli
Redmond, Eva
Smart, Kai
Snarr, Mya
Taljaard, Madison
Tsuji, Megumi
Wheatley, Griffin
Zhang, Xinyin (Cecilia)
Grade 11 Art Pin Recipients
Bell, Sarah
Bent, Melanie
Boily, Thomas
Choat, Stephanie
de la Pena Cortiz, Rodrigo
Dubois, Victoria
Gallant, Grace
Gimenez, Lucas
He, Jiahuan (Edward)
Hilborn, Sarah
Hinds, Mikaela
Kim, Yerin
Lazo de la Vega Permodo, Tammy
Logan, Jem
Lovelace, Callum
MacDonald, Amelia
MacDonald, Aria
Martin, Alexandra
Morrow, Jayden
Peschke, Simon
Russell, Gretchen
Sato, Hidemi
Somasekaram, Mathangi
Sun Chen, Melly (Stephanie)
Wheeler, Ileana
Grade 10 Art Pin Recipients
Ahern, William
Bryant, Hannah
Cole, Taylor
Emery, Quinn
Faucher, Maya
Herrera Moraga, Carolina
Larkin, Mitchell
Li, Zhi (Angel)
Liang, Yung (Jennifer)
Mattie, Megan
Mercer, William
Mulherin, Alden
Norton, Emily
O'Callaghan, Aden
Strickey, Gabriella
Turner-Galaise, Isabella
Viet, Natalie
Grade 9 Art Pin Recipients
Cisneros Uribe, Aitana
Day, Kara
Feng, Ziming (Sebastian)
Field, Julia
Goddard, Lucy
Johnston, Jenna
Kim, HyeonSeo (Harrison)
Lilly, Hayden
Lovelace, Ava
Ugwoke, Jessica
Pape, Allie
Schwartz, Sidney
Stilwell, Hannah
Tracey, Qiaoman
Grade 8 Art Pin Recipients
Ashley, Rendi
Dewar, Anastasia
Kolla, Nikkita
Manchineni, Tanvi
Mei, Emily
Ofori, Oheneba (Papa)
Palov, Eva
Wellard, Sabine
Zeggelaar, Annika
Grade 7 Art Pin Recipients
Armstrong, Vincent
Behan, Caitlin
Faucher, Chaz
Fines-Belcham, Jacob
Graham, Alex
Griffiths, James
Hamilton, Bailey
Larder, William
MacQuarrie, Ann
Rudrum-Bhimji, Sachaa
Sasaki, Ezra
Shaw, Gabrielle
Vidal Nicieza, Alejandro