On May 24th, the Alumni & Advancement Department team attended our annual Grade 12 & Alumni Dinner and Pinning Ceremony, an event hosted each year by our office to welcome the graduating KES class to Alumni life. Prior to the Cadet Ball, the Class of 2019 gathered in the dining hall decked out in (gorgeous!) formal attire for a reception and delicious meal provided by the always awesome Twila MacDonald and her fantastic Chartwells team. The evening began with the lovely musical talents of Joanna Bond (2012-19) and Elizabeth Walsh (2017-19) as our special Alumni guests mingled with our graduating class.


After everyone was seated for dinner, we welcomed members of our Alumni Liaison Committee, Ross Porter (2005-09) and Carlisle Norwood (2003-09). Carlisle and Ross shared how their relationship with KES has evolved and changed since they became members of the School's vibrant Alumni community, and what an interesting experience it has been as dynamics with former teachers have transformed into lifelong friendships.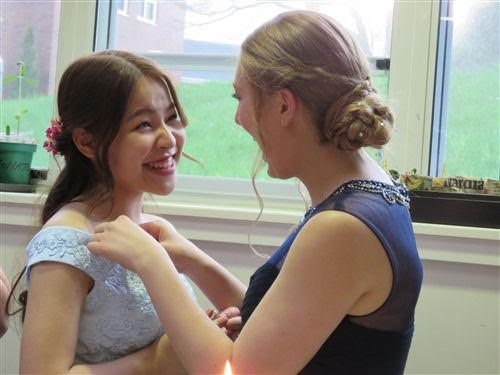 For the first time at this event, we were thrilled to welcome our guest speaker, Jim Mullan (1997-99). Jim was introduced by Kim Walsh (1976-77; Faculty), who coached Jim while he was at the School in the 90s—Kim's slideshow made Carlisle and Ross's point about the transition from authority figures to friends very evident!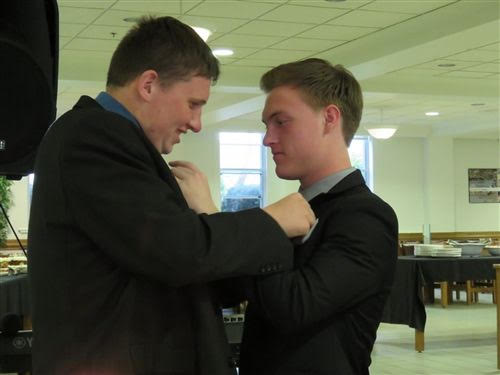 Since leaving KES, Jim has made a name for himself as a singer/songwriter whose credits include "Clothes Off" with Ria Mae and touring with Elmsdale-born Classified, and an industry professional as a project manager with Bird Construction. Jim gave a lovely speech reminiscing about what his time at KES meant to him, how much he still values the relationships he built with his classmates during that time, and the importance of our young graduates facing the consequences of their choices—good or bad—with integrity and the strength to persevere. These are certainly qualities Jim has proven himself to hold since he left our School, and as he continues to recover from a 2016 accident that left him temporarily paralysed below the neck.

After Jim's moving talk, the evening wrapped up with the always-emotional "pinning ceremony" that (in a twist on previous years) gave each of our graduates the chance to attach an official KES Alumni pin to one of their classmates' lapels. Beautiful words from our Director of Advancement Heather Strickey made the moment all the more poignant, with a few not-quite-dry eyes visible in the crowd. As the year winds down and our grads get ready to say farewell to their soon-to-be alma mater, this dinner was and has always been a wonderful opportunity to show them that while this may be an end, it is also a new beginning.
King's-Edgehill alumni feel embraced by their KES experience long after they have left. If you're an alumnus/alumna eager to re-connect with your KES friends, find out how to do that here: