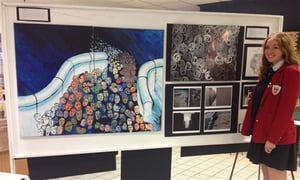 The IB Art students should be very proud of their IB Exhibition and exam. The opening night (Thursday, April 12) was well attended, and it was wonderful that our students had a chance to share their experiences and art work with friends and family. The show included nine IB visual artists along with the Grade 11 and 12 Art students. Many of the IB works were inspired by their own culture, and the IB show is a collection of their work over a period of two years.
The Art students in Grades 7 through 11 had a chance to look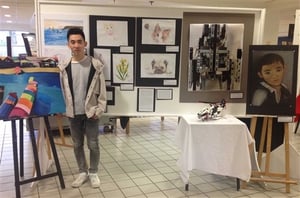 through the Exhibition and write about one of the artists who inspired them. Below is a critique by one of our Grade 7 Art students.
"I really liked the painting

'Sunset at

Mt. Garibaldi' by Cameron Ross

because it really captures the beauty of the mountains. It is very majestic. What really stuck out for me was the contrast of the dark mountain and the colourful sunset. I also liked 'Captured' by Johanna Grosse. It has extremely powerful symbolism, and the art work itself is stunning. The idea of the sculpture is both sad and empowering. What drew my attention to it was how the beautiful,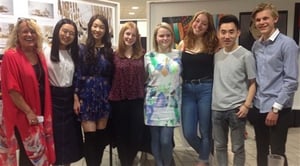 colourful bird was staring defiantly out of the caged mind."

- Athena Cox -

I couldn't have said it better myself.
Congratulations! It was a very powerful exhibition.
Learn about our Fine Arts curriculum from Grade 6 to IB Art as well as countless extra curricular opportunities to express your artistic passions.