An International Baccalaureate (IB) Diploma is a challenging two-year educational program for student's in their final two years of high school.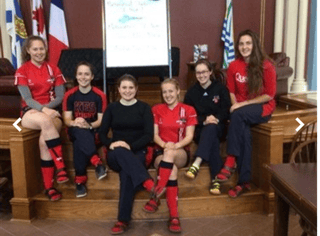 Graduating from this program provides students with internationally accepted qualifications for entry into universities and colleges worldwide. In addition to academic respect, graduates of the IB programme are known to flourish intellectually and emotionally.
The hard work and determination associated with graduating with an IB Diploma is known to stay with a graduate long after they finish secondary school. Studying for an IB Diploma is more than just learning the basic principles of math, languages, arts, sciences and the humanities – earning an IB Diploma makes you a lifelong learner.
It has been said that studying and subsequently graduating with an IB Diploma makes a person more engaged, more aware and more resourceful in all facets of life and work. Graduates are critical thinkers, responsible citizens and informed participants in world and civic affairs.
The IB exam cycle prepares students for post-secondary academic life by teaching them how to study, what to expect through rigorous examinations and how to write longer essays and exam papers. The knowledge of how to study, how to learn and how to succeed makes an IB Diploma invaluable to any young person entering university.
The majority of IB Diploma graduates go on to university – in fact each year I00% of IB Diploma graduates at KES are accepted to university and most with significant scholarship offers.
King's-Edgehill School ensures our students find the right university and post-graduate program for their area of expertise. This means KES graduates can be found at various universities and colleges in Canada as well as around the world.
The benefits of graduating from KES' IB Diploma programme include increased post-secondary acceptance rates, increased scholarships and grant opportunities, unlimited knowledge, a tendency to become lifelong learners, ingenuity, self-assurance, and an appreciation and understanding for personal histories as well as the values and traditions of other people.
The sky is the limit for our IB Diploma graduates!
At KES, we are proud of each and every IB Diploma graduate and encourage them to seek their own unique academic path wherever it takes them! We have seen our graduates go on to successfully pursue criminology, design, military studies, global and international studies, nursing, communications and much, much more!
Where will your child's IB Diploma take them?
Learn more about our IB Diploma programme here.