Our faculty are constantly searching for innovative ways to help your children learn and grow. At KES we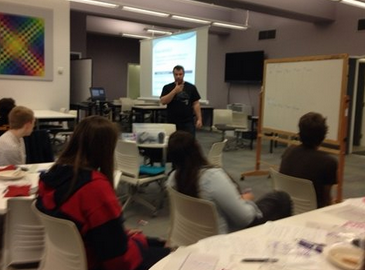 believe there are four pillars of education: leadership, academics, athletics, and the arts. The math circle movement began in Eastern Europe and was introduced to North America in the 1990s. Today there are still just over 200 in existence on this continent. As a parent, we are sure you are wondering exactly, "What is a math circle?" And more importantly, "How can participation in one be of benefit to my child?"
A math circle is a method of teaching in which professional mathematicians and mathematical scientists share their passion with students and teachers in a casual setting. A math circle program brings students and teachers together with professionals outside of formal classroom instruction time, in a more relaxed atmosphere, sometimes in the evenings or on weekends. In this informal venue, participants tackle current topics or problems in the mathematics field. Games, stories, puzzles, or hands-on activities may be used to expedite learning. This alternative setting encourages a sense of discovery and enthusiasm through exploring problems while working together with others. We all know that during the teen and pre-teen years, peers are very important to students, and the math circle experience gives students a chance to learn new concepts along with their friends in an entertaining, social, yet challenging, setting. The process has been shown to appeal to a wide variety of students, even if mathematics has never been one of their favorite subjects. The math problems presented in this setting typically offer a multitude of ways to work through the problem, and although students need only a basic background in mathematics to participate, the process itself leads to weighty concepts which can be linked to higher mathematics.
One proven way to create excitement about a particular occupation is to bring students into direct contact with professionals who are enthusiastic about and successful in their field. Math circles bring mathematicians directly to pre-college students with personalized, hands-on instruction and brainstorming. The goal of a math circle is to create excitement about and interest in the field of mathematics. A lively math circle is often a great inspiration to students, and very rewarding for mathematicians, since they don't often have opportunities to interact with young people. This process makes math accessible and engaging for all involved.
Why offer a program like math circle? Any career list today puts jobs with a strong mathematical background at the very top. But no matter what career choice a student ultimately makes, abilities such as problem-solving skills, discipline, and patience are of utmost value in any field. These qualities are all products of learning math skills.
At KES we continually strive to offer a variety of ways to educate our students, no matter what their personal learning style. Math circle is simply another tool we use to lay a solid academic foundation, and to encourage and support students' interest in this vital field of mathematics.
Our first math circle of the year was held on Sept. 16 and was a fun take on graph theory. We had 12 students and 2 teachers attend.
The basics of graph theory were reviewed, and then applied to the famous Handshaking Lemma. They also spent some time trying to reduce ties in one famous tie-breaking game, rock-paper-scissors, by making the game more and more complicated with more gestures. This again related to the basics of graph theory.
The October Math Circles event is taking place next Wednesday. Our speakers are Abdullah Al-Shaghay and Marie B.Langlois.
This talk will be about prime numbers, we will answer the following questions about them: what is so special about them, how can we find them (well, find numbers that are not primes), how many are there, etc. Along the way we will explore number theoretical concepts such as divisibility, modular arithmetic and mathematical proofs.
We look forward to continuing our regular visits to Acadia and Dalhousie University Math Circles this year and the camaraderie, learning and motivation they provide for all of our students whether in Grade Seven or Grade Twelve!
As you can see, Boarding Schools are not dreary places, nor are they only for the international elite. The Canadian Accredited Independent Schools (CAIS) is an association of Canada's best independent and private Schools. Download the article that addresses these and other myths about boarding Schools here.