By Taya Shields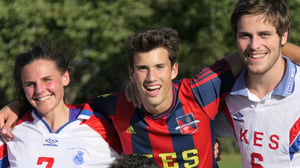 I read a fascinating article by Michael Brosnan "On Happiness and High Achievement" in the Independent School Magazine, in which he identifies the most important aspect of Independent Schools to be the strong bonds they encourage.
"I'm really talking about what I see as the most important aspect of education, and that is human relationships. . . what got me through (my schooling) were the relationships I had with my teachers. I had interesting, dedicated people in my life. . . I had teachers with passion who showed me something of themselves. For my children what I want is a school where they will have good relationships with people who share their lives and what they love. There is so much more to school than academics. That's a truth we keep having to re-find." Michael Brosnan, Independent School Magazine, Winter 2004
King's-Edgehill School is, compared to most Canadian schools, small in number, but it is a school with big heart. One of the advantages of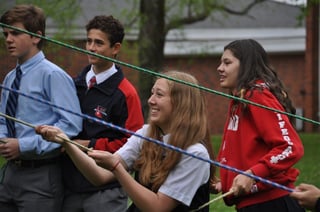 being small, is that there is greater potential for meaningful relationships. Class sizes are limited to 15 students and for both day and boarding students, co-curricular activities offer more time to learn, work as teams, work individually, socialize, play, perform, discover and pursue their passions, all within the close range of caring and committed teachers. It is a place where teachers and students care about, look after, and root for one another. It is in every sense of the word, a community. Although it sounds cliché, it is a community with a genuine family feel, and that is a daily reality.
At KES, teachers' roles extend far beyond the classroom. It is amazing to think that in a school where there is a plethora of sporting options (over 20 choices), it is the regular teaching staff who run each of these programs. In addition, the faculty also are the duty teachers, with many staff living on campus in residence as house parents. Teachers eat breakfast, lunch and dinner with students and often organize evening or weekend outings. Teachers are also student Advisors and meet regularly to discuss goals, counsel, or just share time together. It is an authentic network of support, and students are eager to seek advice, conversation, and camaraderie. Life on campus gives both groups - students and staff – numerous opportunities to connect throughout the day.
There is no question that knowing students well enhances both teaching and learning. Teachers know what their students' passions are, and who their friends are. They know what they're reading and the sports they play. Such knowledge provides insight into a child's personality, learning style, and their individual strengths. It reinforces the idea that it really isn't private education, it is personal education. Parents are often surprised at the deep understanding our teachers have of their children. And it is this genuine understanding that makes the teaching and learning so meaningful.
Similarly, in such a close knit community, teachers share their lives with their students. Our students see their teachers for who they are. Your child can build a richer, more respectful, and deeper relationship with an adult when they get the chance to dine with them, design costumes or go biking with them. Teachers share their sense of humour, and model problem solving and time management skills. Our students meet our families and we meet theirs. Students see how much their teachers care about them while they are caring for them.
"From my point of view, the best thing about small schools is the relationships that develop between students and teachers. My former head said that teaching was "knowledge transmitted through personality." Michael Brosnan
Because we live the KES lifestyle side by side with our students, we have the time and opportunity to develop meaningful connections. Through our many interactions with our students we establish and deepen strong positive relationships with them. I believe this is ultimately what enables our students to truly enjoy their education. Positive relationships create happy, confident learners. And there is no limit to what happy, confident learners can achieve.
Why not plan a visit and experience the school for yourself?
Junior School Director