At King's-Edgehill School in Nova Scotia we offer a top boarding school education for children in grades 6 through 12. We provide curricula and opportunities that will help your child challenge themselves and build strong, incredible friendships that will last forever. At KES, we pride ourselves on providing an environment for your child that will allow them to reach their full potential.
Our mission statement is more than just an ideal; it's a goal for everyone at King's-Edgehill School: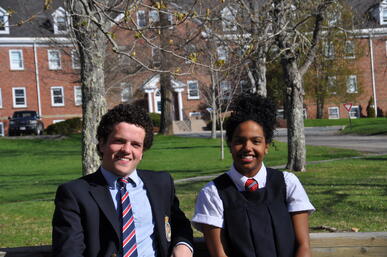 KES inspires academic, athletic and artistic excellence with a commitment to the traditional community ideals of gentleness and learning, dignity and respect, so that students may discover and cultivate their unique potential, prepare for post secondary education and develop a life long enthusiasm for the spiritual and intellectual growth necessary to flourish in the contemporary world.
We start with the basics. Each staff member is dedicated to the passion and professionalism of providing the best education for your child.
There are 19 buildings on our 65-acre campus. In addition to our educational buildings, our superb facilities include a state of the art athletic center, great playing fields and tennis courts, a renowned performing arts centre and concert hall.
At King's-Edgehill, your child can be more and do more:
We offer a healthy environment that stresses learning with clearly defined rules and authority with an emphasis on building self-discipline.
We understand that it is important to encourage intellectual exploration in all areas of learning, to stimulate a student's long-term growth and development.
We believe that the best teachers are those who are caring and respectful, and who understand that the development of a student includes educational, physical, social and emotional growth.
We value academic freedom and we trust our teachers to develop and provide curricula that are creative, innovative and stimulating.
We recognize that it's crucial to encourage the spiritual aspects of life in concert with academic and physical development.
We promote healthy and honest competition and encourage teamwork and co-operation with others.
We expect all members of the King's-Edgehill School community to show respect for others and to understand that everyone is entitled to that respect.
Founded in 1788, KES has a student body of around 300 students. With a student to teacher ratio of 7 to 1, our average class size is twelve students allowing for much individualized attention. For the past 12 consecutive years, our graduation class has earned more than $1 million in scholarships and has achieved 100% acceptance into post secondary institutions.
We know how important it is for you to provide quality educational opportunities for your child, and we understand that you want to know as much as you can about any school that you are considering. Many parents find talking with other parents of same aged students to be one of the best means of gathering the most important information as they make schooling decisions. Provide us with the age, gender and current grade of your child, and we'll match you with a current parent who will be happy to share their experience of King's-Edgehill School. As Canada's first independent school, we have a history of developing students like yours to their complete and full potential.
Interested in learning more? Simply follow the link, provide a little bit of information about your child and we'll match you with a KES parent.