Learn Abroad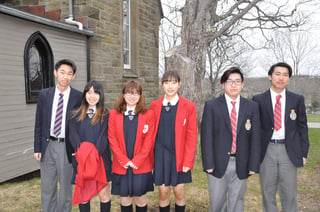 If the idea of educating your child in a private school setting outside of your present country, then you should consider schooling in Canada.
Most boarding schools in Canada have a rolling admissions policy. This allows them to accept your child at any time during the school term. It also allows you the opportunity to visit the school when you have time and to settle any doubts that you might have.

Your child will learn in a safe and secure environment. Canada is one of the world's healthiest and safes places to live. It has a worldwide reputation of being a friendly place to live and work. Canada's high standard of living makes for a happy population and a lower crime rate.
Canada is a diverse environment. The culture is one of open arms where there is acceptance and respect for differing opinions. Students with different ideas, value and perspectives are taken with equal value. This openness leads to a collaborative learning environment which is recognized internationally.
Boarding school students are focused on helping students prepare for universities throughout the world. Students are assigned an academic counselor who will work with the student, to help in the acceptance of the student at his/her university of choice.
Boarding schools should not be all about studying. Students need to enjoy and participate in the sports that easily accessible to everyone. Most boarding schools require that each student participate in a sport and at least one other extracurricular activity.
Attending a boarding school is a unique opportunity but it is not for everyone. Talk to your child often about why he/she wants to attend. Look into your own motives as to what you want for your child to experience. Choose what courses that your child wants to take, as well as activities that they want to join. Research the school that meets the requirements. Make visits during all of the seasons, so you can experience an entire school year.
One of the boarding schools that should be on your list to research is ours, King's-Edgehill School located in Windsor, Nova Scotia. Our school is Canada's first Independent School founded in 1788. The primary mission at King's-Edgehill is to prepare students for universities while at the same time prepare them to lead rich and meaningful lives. King's-Edgehill is a coeducational boarding and day school for students in grades 6-12.
King's-Edgehill inspires excellence in the arts, academics and athletics. We have a commitment to the ideals of the community for learning, dignity and respect. Students leave King's-Edgehill with a lifelong enthusiasm to learning so that they can flourish in today's and tomorrow's worlds.
As you can see, Boarding Schools are not dreary places, nor are they only for the international elite. The Canadian Accredited Independent Schools (CAIS) is an association of Canada's best independent and private Schools. Download the article that addresses these and other myths about boarding Schools here.