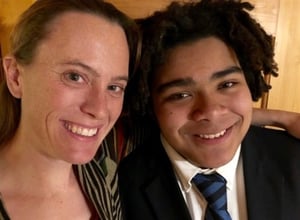 Grade 9 student,
Will Mercer
, is off to Ottawa to present at Canada's History Forum on January 27
th
. Will is in his first year at King's-Edgehill School and will proudly wear his School uniform during the presentation. Will earned the right last year to present after having worked on a project at the Booker School under the tutelage of
Ms. Temma Frecker
.
With Monuments and Memories at the forefront of contemporary discussion,
Will and Ms. Frecker
led an inquiry journey into the Cornwallis statue controversy in Halifax in 2017. Grade 6-8 Booker School students created and shared a collaborative proposal to address the issue. The judges were impressed by
Ms. Frecker
and the historical work undertaken by her students:
"Their unique and creative proposal for the Cornwallis Statue, 'The Conversation' reflected their ability to address a complex and relevant issue with maturity and understanding."
,They will also attend the Governor General's Award ceremony at Rideau Hall on January 28th.
Learning doesn't stop when we leave the classroom. Download the "Oh, The Places You'll Go!" PhotoJournal to discover the many places your child will go as a KES student!