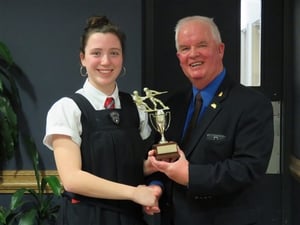 February 12 dawned sunny and bright. The snowy campus of King's-Edgehill School was ready to receive the participants for the annual Cadet Winter Carnival. The cadets had to step high to get over the unyielding snowbanks…..BEEP….BEEP….BEEP. Wake up Captain Hynes, you are dreaming!

Let us start again. February 12 dawned sunny and bright with not a trace of snow on our KES campus. Undaunted, the cadets of the 254 formed up by flat and house combinations ready to compete in the annual Cadet Winter Carnival. Once again, we proved that the weather is not an obstacle to a plan. It simply provides the Cadet Leadership with an opportunity to innovate.

Under the supervision of our Drill Sergeant Major, MWO Lane Latreille and the amazing organizational ability of our Headquarters CQMS, WO Ava Benedict, the event was a success from the start.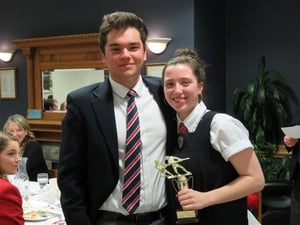 The Toboggan Race on Grass was excellent. One cadet sat on and two more towed the toboggan through the course. The Senior Day Boys exploded out of this event with a timing of 24 seconds. Obviously, the video of their preparation was not all CGI.

The Snowshoe Race was run on hard-packed sediment on the track around Jakeman Field. A superb level of fitness was displayed in this event.
This year, we mixed up the competition by having the Warrant Officers organize each event. They were great! They planned well and really impressed the Faculty with their level of preparation. Above all, they had to remain impartial. I will never forget the look of pure joy on the face of the judge, WO Alex Arki (a Senior Day Boy), when he leaped into the air as he announced the time for SDB in lighting their fire.

And then the event came to its inevitable conclusion. Once again victorious, the Senior Day Girls mounted the podium and accepted the 2019 trophy as the Carnival winners. The Senior Day Boys, gracious in defeat, stood at the dinner and gave an eloquent standing ovation to the ladies.

What a great day and fun for all. Next year, SNOW!
At King's-Edgehill School, weekly cadet activities are varied and include much more than marching and drills. Your child will learn life-long skills such as first aid or spend a fun-filled afternoon zip lining. Download the Cadet Corps PhotoJournal for more information.