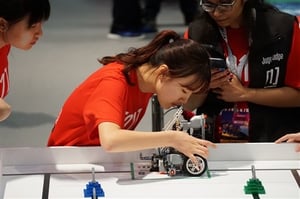 The King's-Edgehill School Robotics team travelled to Montreal, Quebec last week to compete in the Canadian qualifier for the World Robotics Olympiad (WRO). The WRO is a LEGO based competition in which students are responsible for designing, creating, and programming autonomous robots to complete a series of tasks in less than two minutes. Thirteen teams from across Quebec, Ontario, and Nova Scotia competed in the Senior Division (ages 16 to 19). While all the competitors from King's-Edgehill School did well at the competition, the robot created and programed by the team of
Jiashu
(
Jay) Liu, Weijia (Torres) Liu,
and
Xianlong (Daniel) Zhang
did particularly well coming in second place overall. My congratulations go out to all those involved. I am very proud of the accomplishments of such a talented group of future engineers, computer programmers, and scientists.
I would also like to thank
Chris MacLean
and
Aynsley Sasaki
for their involvement with this trip. Without their help and great sense of humor this incredible learning experience could not have happened.