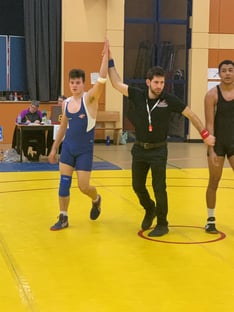 The student-athletes of our wrestling team gave up some of their mid-term break to compete at Sackville High School on February 1st. They finished the tournament with 6 medals and a team GOLD for our Senior boys. Of particular note is Greg Otto, who overcame considerable opposition from 5 other competitors in the 92-kilogram class to win GOLD after winning the final match against River Qi, who also put on an excellent performance to take SILVER. Evan Logan and rookie Luis Reutner both finished in second place in tough weight classes with 6 and 5 other opponents, respectively. We are confident that with more practice they will walk away with golds next time. We are also very proud of Andrew Atwood who, after switching sports to wrestling only days before, competed in his first tournament. With an analytical mind and considerable athleticism, he performed extremely well for a brand-new wrestler. We would like to extend a special thanks to our athletic therapist, Jennie Weisner, for providing our wrestlers with excellent care all day – she even got her first victory as a coach when she sat in the corner for several matches. Our wrestlers' next competition is when we host Regionals on March 6, followed by Provincials the next day.

Jason Verryn-Stuart
Humanities Department
Head Coach, Senior Boys' Rugby & Senior Wrestling



Achievements like this make parents so proud! We find that most parents of King's-Edgehill students are happy to help out whenever they can and are eager to answer any questions prospective parents might have. Let us know you'd like to connect, and we'll put you in touch!