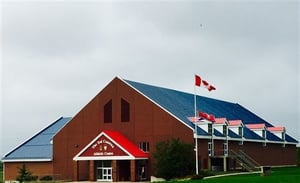 The Merriam-Webster dictionary defines vigor as "active bodily or mental strength or force". Coach Walsh and I are happy say that this noun accurately describes the approach our wrestlers at King's-Edgehill School took towards our recently concluded season. They spent hundreds of hours of preparation in a small basement room, up and down the Athletic Center stairs, and in the weight room, during which time our student-athletes stayed on top of their academic responsibilities.
As a result of this dedication, our student-athletes were ready for the Provincial Championships held here at King's-Edgehill School. Most schools bid for the privilege of hosting wrestling provincials, but KES had the honor of being asked to do so because Wrestling Nova Scotia and the NSSAF were confident we would put on a good show in this, the 50th Anniversary of the NSSAF. Their confidence was well-founded, since most people agreed that KES hosted the best Provincial Championships ever. Many people approached
Coach Walsh, Mr. Seagram
and me to lavish praise on
Keith Hynes
and our Cadet Corps for the magnificent opening ceremony. We were thanked many times for the excellent care provided by
Jennie Weisner
and her team of athletic therapists.
Olivia Drava (Grade 12)
led a team of fantastic volunteers to operate the score clocks and to act as 'gofers' all day. The Girls' Rugby team ran a great canteen, and
Rory Campbell
was always around to lend a helping hand with anything we needed. KES alumnus and wrestling superstar
Riley Otto (2006-10)
gave words of encouragement to the student-athletes during the opening ceremony and lent a valuable hand as a guest-coach in the corner to our wrestlers. Our very own Headmaster acted as our master of ceremonies all day. Finally, the day would not have gone as smoothly as it did without
Kim Walsh
organizing the entire tournament.

Of course, the most significant part of the day for us were our wrestlers and their on-mat performances. We took home 6 medals, including:


Neila MacDonald
– BRONZE in 61kg - Senior Girls
Maya Faucher
– BRONZE in 69kg Senior Girls
David Helyer
– BRONZE in 55kg Senior Boys
Evan Logan
– SILVER in 80kg Senior Boys
River Qi
– GOLD in 92 kg Senior Boys
Luis Reutner
– SILVER in 110kg Senior Boys
The most anticipated results, however, were the team standings. Our Senior Girls performed admirably, but they were outshined by five numerically superior teams. Our Senior Boys had an excellent day, coming just shy of second place. The future looks very bright for our programme, given the young age of most of our student-athletes (
Chaz Faucher
is the youngest wrestler in the NSSAF!). We would like to thank our captain,
Quinn Emery
and graduating wrestlers
Evan Logan, Aimee Cooper,
and
Victor Moreno
.
Jason Verryn-Stuart
Humanities Department
Head Coach, Senior Boys' Rugby, Senior Wrestling

Why choose KES for your child? We help students be more than even they thought possible. Learn more in our Questions to Ask eBook.