Mr. Lakes shares his weekly conversation with former KES student, Lisa (Kennedy) Caissie (1995-2001).

Many of my former students are currently fully engaged in perhaps the toughest and most rewarding stage of life – the years of parenting young children! This week I had a chat with Lisa about the exciting years of parenthood and balancing a vibrant career with family life.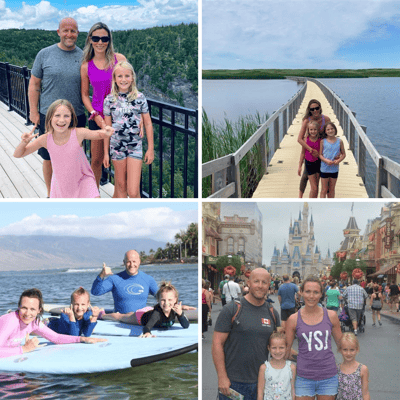 Lisa is the Manager of Strategic Communications and Public Affairs for the City of Saint John, New Brunswick, and the proud mother of two daughters: Charlee, 10, and Sadie, 9. Lisa and her husband Adam work as a team, juggling their careers and providing a dynamic homelife in the midst of a pandemic.

When COVID-19 hit, Lisa had to step it up at work as she is also the Public Information Officer for Emergency Management in Saint John while Adam fulfilled his commitments as an RCMP officer. "I had to take the mindset that this is just another challenge," said Lisa followed by the familiar chuckle that reminded me of her Grade 9 oh-so-affable self. "I just decided to take on the role of helper. Help my work team and help my family, but also always looking to find fun as a silver-lining."

This mindset is best explained in one of her creative, joyful activities with her girls. "We started what I call a 'Chore Store' at home," she says with another chuckle. "The girls take on chores and are also helpers, and they can earn "family-currency" for treats. And it worked! One morning, the chore was to make breakfast, now I can't stop them from frying eggs!"

Lisa loves fitness and also shares this passion with her family by taking 5 km walks each day during lockdowns. "That was actually harder than expected with kids and two aging dogs," she said. Lisa inherited more than just dog-walking from her father, Mr. John Kennedy (teacher 1982-present) of KES fame, as she is also devoted to learning. "I loved going to school with my Dad," she recalls. Lisa says she is grateful to KES when she tells friends that at school, she did cadets, chapel, sports, academics and much more. She has come to realize that this was a truly unique experience. "It was about being a WHOLE person," she says. "I actually work at not losing that," she added.