I often think that the best compliment to any school is when a significant number of its graduates become teachers. This does not necessarily mean that they are employed in a school system, but to be more precise - they have a drive to share their knowledge and wisdom with others.
This is what most struck me about
Michael Pitaev (2015-2017)
during a recent telephone conversation. I called him in Bakersfield, California to congratulate him for achieving his Flight Instructor Certification, an exemplary accomplishment for a young man. Teaching people to fly at the age of 19!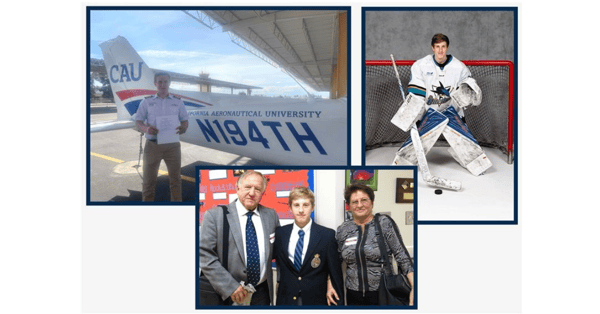 When Michael was in my Grade 9 Class, he showed an obvious interest in aeronautics, and he has pursued the discipline with focus and determination. Michael's family moved to San Jose, California after his Grade 10 year. A goaltender on our hockey team, he continued to play for the San Jose Junior Sharks until he entered the California Aeronautical University.
Michael has a very supportive family. I recall one Grandparents' Day, when the Junior School Rocket Club had its annual launch and, of course, Michael was involved. His grandparents,
Dr. Luba Pitaev
and
Dr. Valeri Pitaev
had come from Europe. We had a couple of "blow-outs" on the pad; however, by the end we had several successful and exciting flights. We then received the greatest compliment ever!
Dr. Pitaev, with his distinct Russian accent, made a point to congratulate us. "I am a physicist, I worked with Russian systems. Good job!" Had our little Rocket Club just had earned approval from a Russian Rocket Scientist??!!
I later learned that Dr. Pitaev's main expertise is in lasers with a side interest in aeronautics. The pat on the back certainly made our day. He has been patting Michael on the back throughout his life and is very proud of his grandson.
"I am the first in my family to become a pilot," says Michael. "They are very supportive, as they know how much Science and Math it takes to be a pilot."
Michael complimented his Science teachers at KES,
Mrs. Belliveau
and
Mr. Forsyth
. He also pointed to an appreciation of the Cadet Programme. He identified that studying First Aid with
Mr. Walsh
and learning mapping as skills that are memorable and important. To my delight, he is grateful for my "go-to" writing exercise, the 5 paragraph "Cheeseburger-Essay". "I had to use that a lot," he says, "even in flight school!"
Michael is launched in his career. He has chosen to "laser-focus" like his grandfather, with an eye to providing safe air travel for future pilots and passengers.