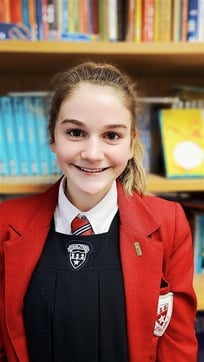 The next leader in our
Emerging Leader Series
is Grade 9 dynamo
Eva Palov
from Bedford, Nova Scotia. Eva joined us last year to be a part of our blossoming high-performance soccer programme, but established herself as an exemplar of leadership, positivity, and engagement in all four pillars of School life here at King's-Edgehill. Eva's ability to bring out the best in others is apparent, and she shows a genuine desire to make meaningful connections with both peers and staff alike. Eva is someone who thinks beyond herself, and regularly makes the extra effort to find ways to help others. A perfect example of her selflessness was at a recent Junior School activity where, without want of recognition or praise, Eva stayed back after the rest of the group had departed to help ensure that the dining hall was clean and orderly.
What does leadership mean to you?
It's a kind of hard question, but to me, leadership means putting yourself out there and helping others without being asked.
In your opinion, what makes a good leader?
A leader is someone who helps others and sets a good example. It's someone who doesn't just stand back if there is a problem, but actually helps to solve the issues.
How would others describe your leadership style?
Outgoing, because I like to be involved and I like to put myself out there even if it's something outside of my comfort zone.
Who do you look up to in terms of leadership?
(Grade 11 student) Jill Griffith is a really good leader because she gets along with everyone and sets a good example by treating people with respect.
What has been the biggest surprise for you over the past two years?
Doing the Junior School musical last year. I had never done something like that before and I was surprised I could do something like that in front of so many people. It was definitely outside of my comfort zone.
What are your goals for the year?
I want to keep my academics, stay on top of all my work, and get good grades. In terms of leadership I want to recognize times when I can step up and help and maybe even organize something for the whole Junior School.