Inside King's-Edgehill School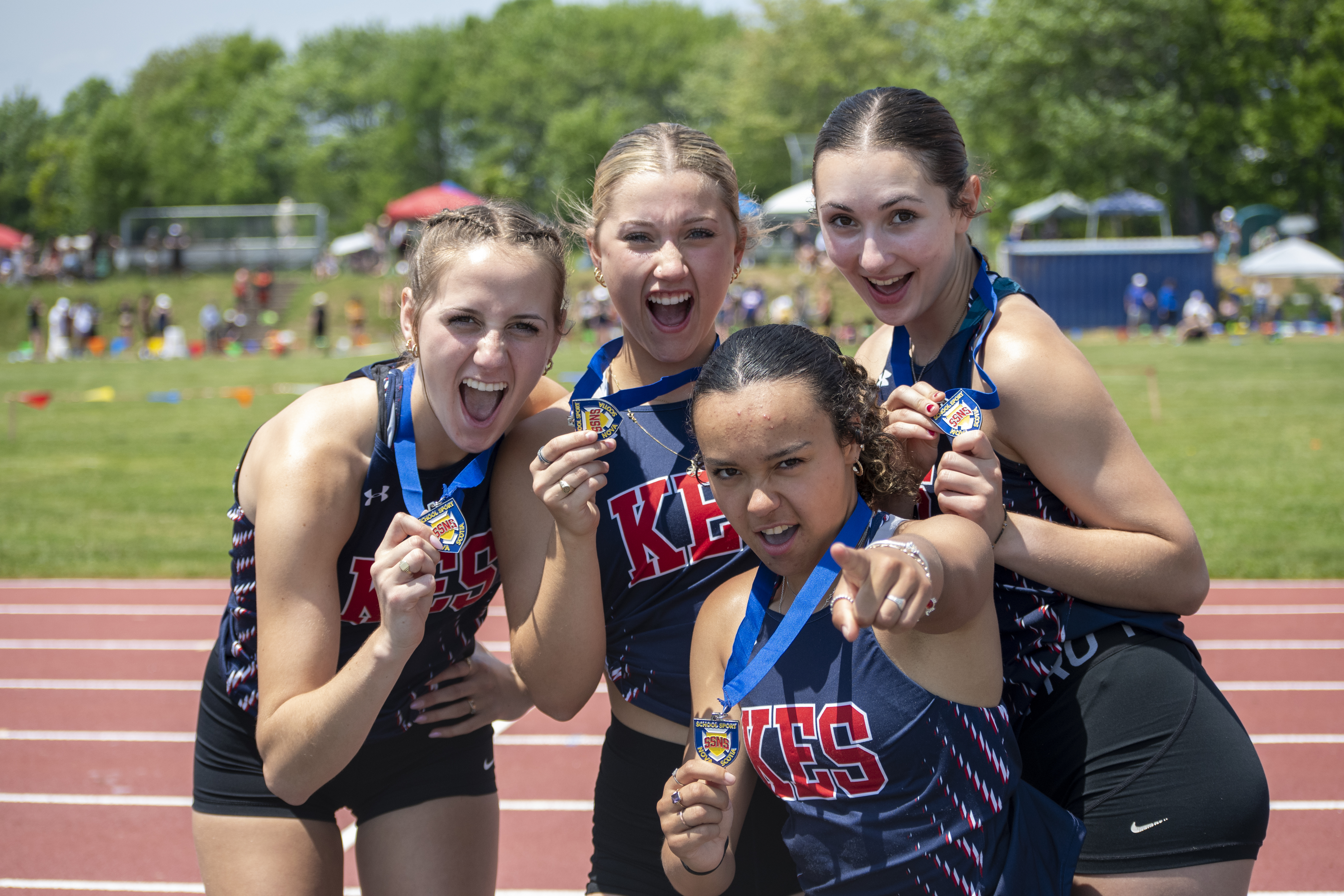 Track and Field Provincials Recap
What a wonderful two days of track and field! The biggest school sporting event in Nova Scotia, more than 1000 student-athletes gathered at Beazley Field in Dartmouth for 30 degree temperatures and even hotter competitions. There were plenty of school colours on display, but everyone seemed to be wearing sunburn red. With all schools competing against one another (we do not have division 1, 2 or 3), placing in the top 8 (scoring points) is no easy task.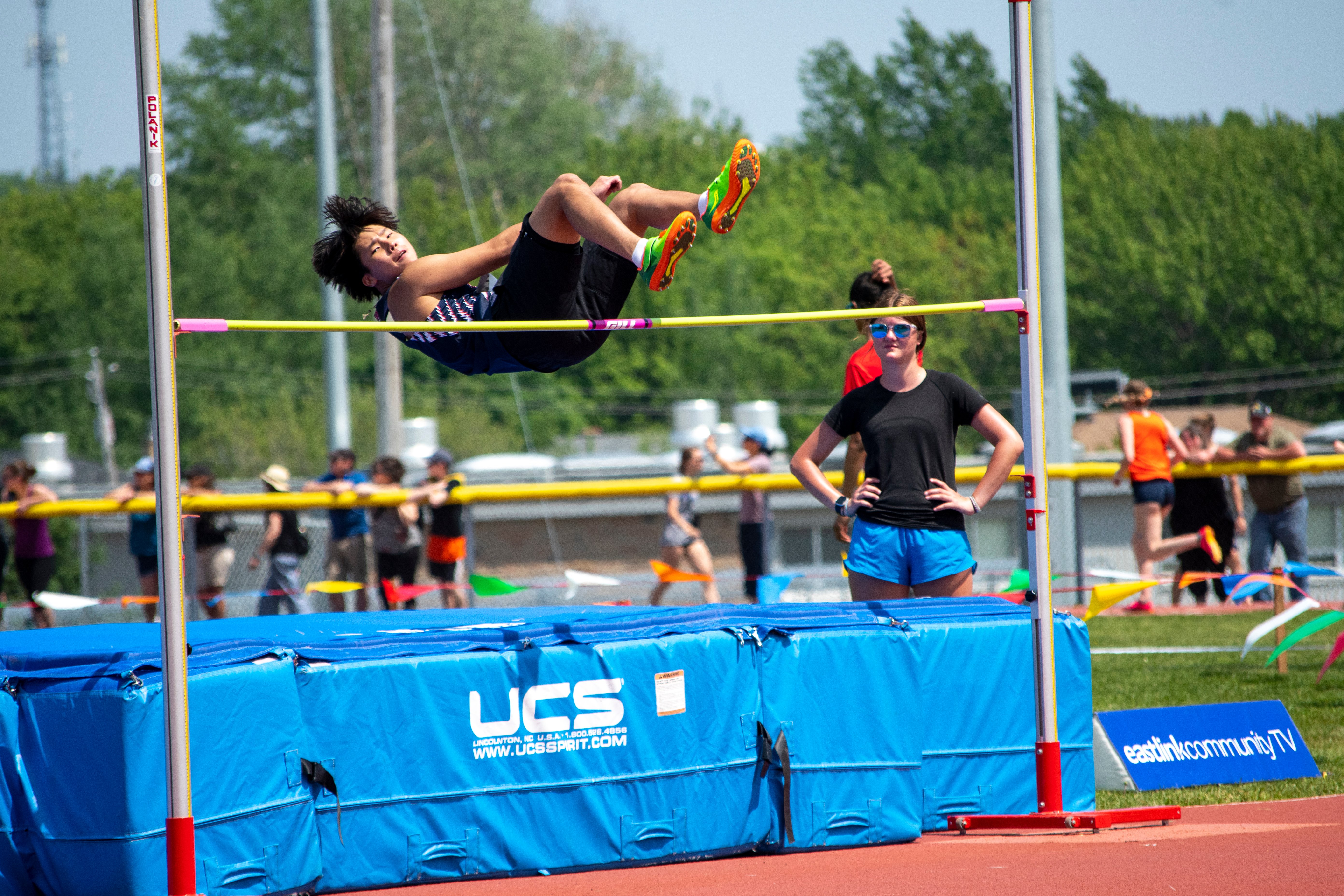 Ella Descoteau '23 was one of our stars at the District Championships when she triple jumped 10.14 metres. Regionals were a bit tougher as she went down to 9.83 metres. Yesterday at Provincials she had a rough time breaking 10.00 m in her first three preliminary jumps, but she scraped through to finals with the sixth place distance (top 8 of 16 go to finals). In the finals she caught fire and jumped 10.35 metres, good for a bronze medal. Ella deserves a lot of credit for staying calm, and not panicking as a lot of athletes would do when they don't get off to the start they were expecting. Adding to the pressure was that her teammate was having amazing jumps, and that can be tough to deal with, but Ella handled it like a pro. Her long jump progression followed a similar path as she jumped 4.63 metres at Districts, dropped to 4.51 metres for Regionals, but bounced to a personal best of 4.66 metres today, good for fifth place in the province. Claire LeBlanc '23 has been through ups and downs with her Ella throughout the season, but yesterday with the triple jump was a big up. Claire jumped 9.67 metres at Districts, then 9.57 metres at Regionals, but saved the best for Beazley as she set five personal bests on her way to improving a total of 64 centimetres and all the way to 10.31 metres, good for fourth place. Her long jump progression went from 4.27 metres at Districts, to 4.44 metres at Regionals to 4.52 metres today, and seventh place. Claire also competed on the track where she earned a personal best by 6 seconds in her 800 metre run and placed eighth overall. Elena Julien '23 improved in each 100 metre dash from Districts to Regionals and again earned a personal best at Provincials even while running into a 1.8 m/s headwind, just missing finals by 8/100ths of a second. Unfortunately, most of those ahead of her had a tailwind of 1.8 m/s. Willa Evans '23 and Chelsea James '29 also competed in individual events, with Evans placing 10th in her 100 metre hurdles, and James, 14th in her always grueling 1500 metre, but even more so when it is 30 degrees.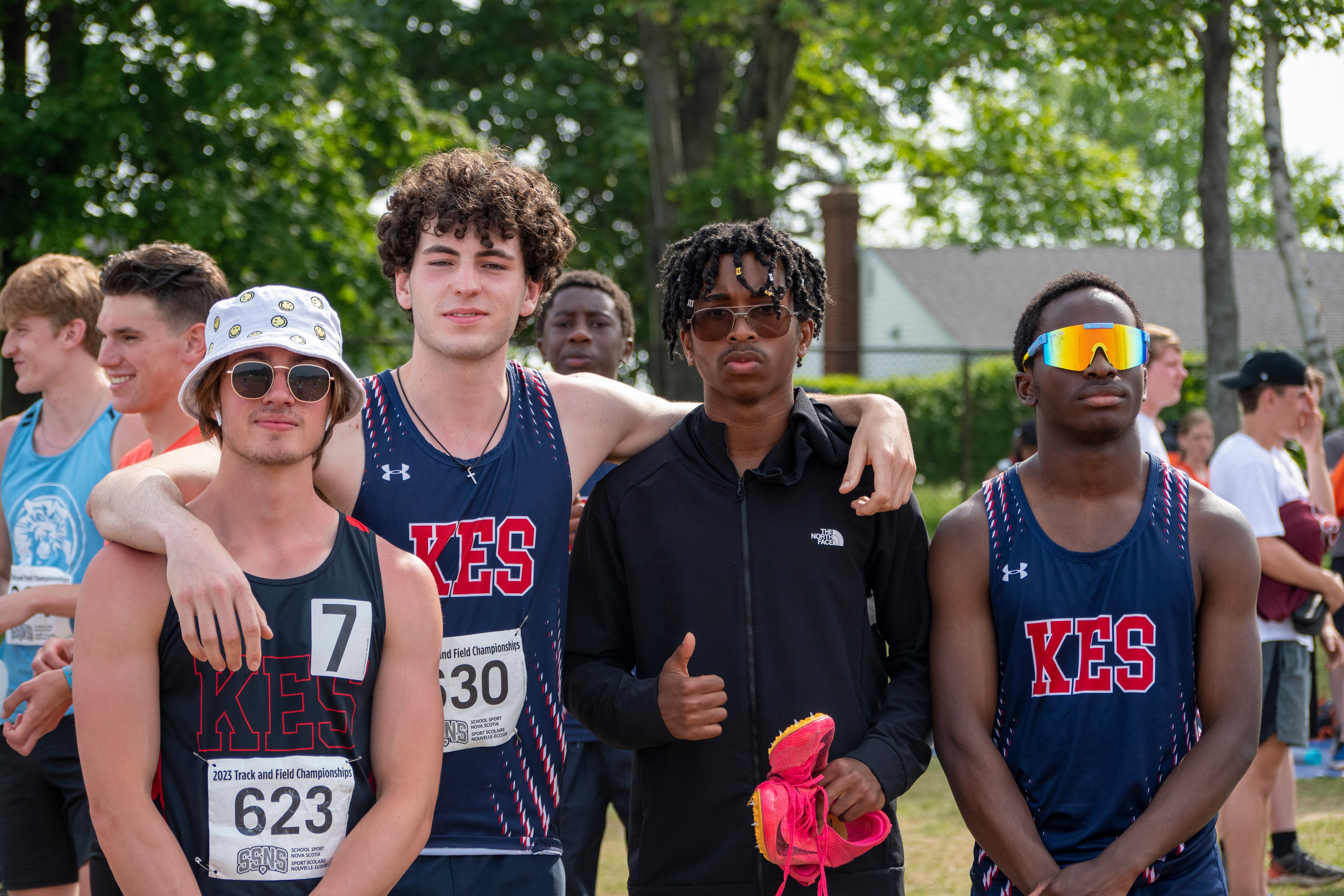 In relay action, the senior girls 4x100 metre relay team of Willa Evans '23, Elena Julien '23, Ella Descoteau '23, and Sidney Schwartz '23 improved by more than a second from the Regional time and by more than two seconds from their District time to earn a silver medal! In the 4x400 metre relay we had a last-minute replacement in the name of Ella Descoteau '23 as she saved the team by racing her first ever 400 metre. Her teammates, Charlie Brinston Conway '23, Sarah Leopold '23 and Willa Evans '23 had a fantastic race as they chopped off more than two seconds from their Regional time, good for sixth.
The boys team held their own over the two days of competitions. Junior Harvey Hadley '23 earned personal bests in his 400 metre dash and 800 metre run. In the 800 metre he ran out of real estate to kick down a bronze but earned fourth in the province. Moving up to Intermediates, Vinnie Armstrong '25 raced a personal best in his 400 metre dash, finishing in 11th against stiff competition. Junsu Kwak '25 had a lot of great high jumps on his way to Provincials but was just a few centimeters short of his best height today, placing 11th. Our 4x100 metre Intermediate relay team of Harvey Hadley '27, Emmanuel Adaramodu '26, Junsu Kwak '26, and Vinnie Armstrong '25 cracked the top 10 today. In the senior boys division, we had shot put District Champion, and Regional Champion Isaiah Johnson '23 trying to medal in a very tough field but finished one away in fourth. Simon Beaudry '23 also competed in shot put, finishing off his best, and just outside the top 10. Quentin Knauf '23, was a bit off his best in high jump, placing 14th, but sprung back in his 200 metre dash to finish sixth overall. Our senior boys relays were tantalizingly close to the podium twice today. Our 4x100 metre relay team of Simon Beaudry '23, Quentin Knauf '23, David Akinboro '24 and Josiah Dosunmu '24 dropped a second from their Regional time, finishing fourth. This same quartet got together for their 4x400 metre relay and knocked off more than five seconds from their Regional time! This placed them less than half a second away from the podium in fourth.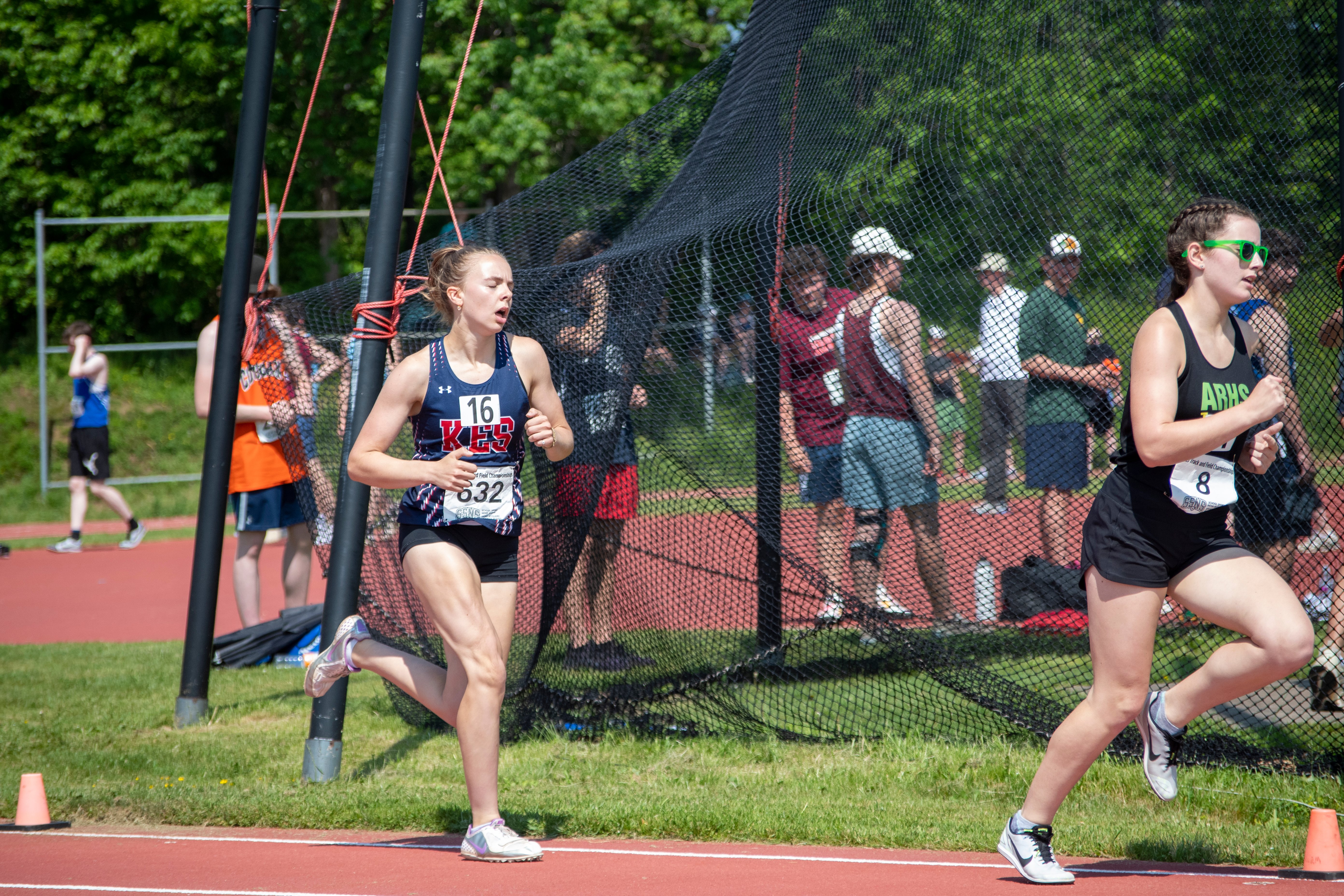 It took a long time, but from the performances of our athletes, and from those around the province, we have returned strong from the pandemic-that-shall-not-be-named. It is very good to see. If you weren't able to be at Beazley for the past couple of days, then you can watch it on-demand from EastLink. They do a world-class job of covering this event (the largest sporting event they cover!) with interviews (like our senior boys relay team) and our very own KES-parent, Edward James, as colour commentator.
There are innumerable people to thank, and I sincerely hope that I have reached out to those individuals many times to express my appreciation. However, a very special thank you to Guy and Besty Payne for joining us for the Day of Payne track and field meet; you inspired a lot of kids that day, and definitely motivated our Provincial bound athletes.
View the track and field provincials photo gallery here!
Phillip Hadley
Senior School Faculty
Coaching XC, Track and Field, KES Swimming
Back