Volunteering is an important part of the academic year for KES students. Indeed, volunteering is one of the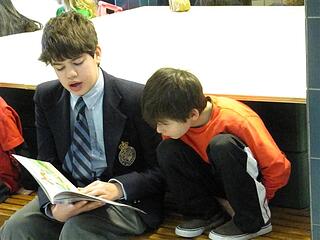 foundations of our student leadership pillar. Through our various volunteering opportunities students learn that volunteering can strengthen and improve a community. Students often discover hidden talents through their volunteer work and gain knowledge of local resources available to those in need in their local community.
The 2015-16 academic year saw our Junior School students alone (Grades 6 through 9) accumulate almost 2800 hours in community service and students are already busy logging hours for this year! These hard working and determined student volunteers gave back to their community on several levels and many look forward to doing the same again this year. Student volunteer activities include spending quality time with local seniors by reading to them or just listening to their stories, or serving a hot lunch and engaging in conversation at Windsor`s Harvest House.

Volunteer opportunities start early in the academic year with our Terry Fox Run in September, where students, parents, staff, alumni and members of the local community join together to raise awareness for cancer research and continue Terry's "Marathon of Hope." Many student volunteers help make this event a success – whether it is by raising money through bagging groceries at the Atlantic Superstore, counting money and rolling coins or decorating the campus for the event, the work of our volunteer students make this event a true success year after year.
While all students are welcome to sign up to volunteer with the Terry Fox Run, all KES Grade 9 students participate in the Duke of Edinburgh Award, so volunteer work is a requirement for the program. The Duke of Edinburgh's Award is a leadership program that addresses four areas: volunteer community service, learning a new hobby or skill, physical fitness, and outdoor adventure.
The Duke of Edinburgh's Award recognizes young people who give back to their community and challenges them to be involved in activities that lead to personal development and achievement. The main goal is to unlock a student's potential, allowing them to experience success while making a difference in the lives of others. It is a wonderful way for students to go beyond their comfort zone by exploring new interests and trying new things they might not have attempted on their own.
Volunteering teaches leadership skills, interpersonal skills, and communication skills. It also builds camaraderie and demonstrates the importance of teamwork. Volunteering also brings people from diverse backgrounds together, promotes personal growth and can improve a student's self-esteem.