A healthy and active lifestyle is learned, mainly through example, which is why KES provides students the choice of a wide variety of sports programs to participate in each term. Participating in sports is not all about winning, but is also about learning life skills and having fun.
Young people who participate in sports programs many advantages over those who sit idle, including greater academic achievement, increased time management skills, fewer school absences, and higher levels of university graduation.
Athletics is one of the four pillars that form the foundation of a KES education. Because it is a key pillar, KES places an emphasis on its athletic programming.
KES is proud to offer students the facilities they need to practice, participate and train in the sports that interest them the most. We have four playing fields, tennis courts, a biathlon training range, a well-equipped athletics centre featuring a double gymnasium, a six-lane lap pool, a weight and exercise room, a dedicated wrestling room, and more.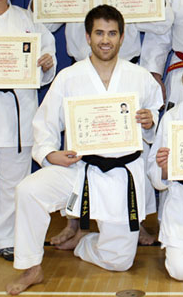 New to KES this fall is karate with Marcel Rochon. Participating in a martial art is known to give young people self-esteem and self-respect. It is also a sport known to be popular regardless of a child's level of shyness or athletic aptitude.
Karate teaches students to find focus and stillness, which are two things an otherwise "plugged in" generation may have difficulty understanding. Karate also teaches a sense of presence as well as conflict resolution skills.
In addition to karate, fall sports at KES also include soccer, equestrian, cross-country running, tennis, and yoga, just to name a few. For a complete listing of all 25 different athletic offerings available to KES students, click here.
It is not uncommon to see many KES students win medals at various sporting events throughout the school year. While it's not all about winning, it certainly does make our students feel good to reach for their best in the sports they love.
All KES students participate in sports. We believe there is a sport for everyone and that playing sports uncovers otherwise undiscovered potential. Students are also encouraged to change up the sports they play, providing a minimum of three sporting experiences each school year. We feel this is a great way for students to discover a new sport as well as provide cross training opportunities.
We believe there is a sport for students of any age, any ability, and at any physical level! If you would like to learn more about the various athletic programs and sports offered at KES, we encourage you to download the Athletics at King's-Edgehill School Photo Journal by clicking here!