At King's-Edgehill School, we pride ourselves on our diverse athletic offering. We offer world-class facilities, training and coaching that not only help our competitive athletes to excel, but also help students new to sports learn, grow and thrive in a supportive athletic environment.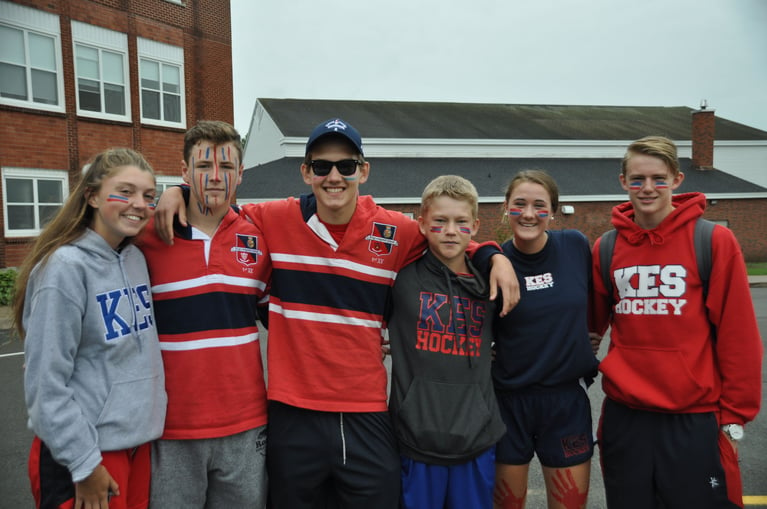 We believe sports help cultivate a student's mind as well as help build leadership, teamwork skills, self-confidence, and improve physical fitness. Athletics is one of the four pillars of a KES education, which is why we encourage all our students, alumni, and staff to experience and enjoy our recreation facilities. We offer sports for every athletic ability and interest including soccer, hockey, tennis, equestrian, volleyball, swimming, and more! Through our sports offering, everyone at KES has the opportunity to exercise, lead, achieve and grow through sports!
Proof of KES' commitment to providing students with top notch athletic offering can be seen through the continual achievements and success of our students, alumni as well as in our coaches and staff.
Alumni Track Captains, Sarah Hickmen (2011-15) and Zachary Lakes (2009-13) were recently named captains of their Atlantic Track and Field Teams at Saint Thomas University. Similarly, Jillian Murphy, King's-Edgehill School Track Captain from 2009-13 was recently recognized in the same manner at St. Francis Xavier University.
KES Alumnus and McGill University hockey player, Mathieu Pompei (2009-10) is heading to Almaty, Kazakhstan for the World Universiade as a member of Team Canada. This event is second only to the Olympic Games and is unique in that it incorporates educational and cultural aspects into 11 days of sports competitions.

The success of our athletic alumni is a source of pride for KES coaches and teachers, including Mr. Guy Payne, a long-time KES teacher (1967-2011). King's-Edgehill School's emphasis on competition and lifelong fitness is a legacy that follows students long after graduation, but it doesn't stop with our students!

The 2019 Canada Winter Games will include Isabelle Germain as their assistant coach—Isabelle is a hockey coach at KES! At the young age of 24, Isabelle is considered a rising star in the hockey-coaching world. Her coaching experience at KES means she is familiar with the age group she will be coaching at the games, and we know that the skills and knowledge she learns from the training camps and Winter Games will transcend to the KES hockey programme.
At King's-Edgehill School, we are proud of all of our students and staff involved in our athletic offering. Sports is an integral part of who we are at KES—not because we are competitive, but because we believe in the lifelong skills, lessons and opportunities that involvement in athletics can lead to.
For more information on the athletic offerings at KES, we invite you to download our Athletics Photojournal.