At King's-Edgehill School, the start of a new academic year also means new and exciting leadership opportunities for all KES students. In fact, some opportunities began before the school year did!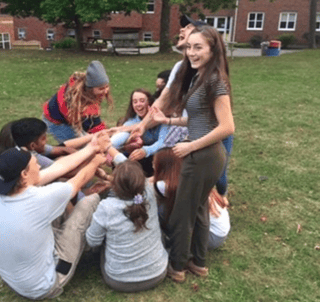 On September 1st and 2nd of this year, Grade 12 student leaders gathered on campus to train for their Perfectrole by attending various workshops and events designed to teach them their responsibilities in a leadership position. This year the Acadia Student's Union held a presentation to help Perfects understand how to work best with other students. These same students then participated in role-playing with faculty, which enabled them to fully understand the situations they may encounter throughout the academic year and what to do about them.
The days devoted to training also allowed Perfects the chance to bond as a team, plan events for early in the year, and to receive their Perfect ties before school and their new leadership roles, officially began.
Around the same time, Grade 11 students who were appointed Stewards also gathered on campus to train for their important leadership role. The students involved in the Grade 11 Steward program were chosen by the Program Supervisors, faculty and the Headmaster based on maturity, responsibility and their ability to deal with fellow students with the utmost of dignity and respect.
Also in September, Cadet Officer Training took place at Camp Mockingee. Participation in our Cadet programming not only teaches leadership skills, but it is also an inspirational and motivational experience. During this training Cadet Officers learn a variety of leadership and practical skills to help ensure they are ready to set a good example for new and young cadets.
Even our Grade 9 students have the opportunity to be involved in leadership opportunities early in the school year. September sees the formal start of the Duke of Edinburgh Award Programme for all Grade 9 students with a hike at Cape Split, followed by overnight camping the following weekend. Because this Award recognizes students who give back to their community and challenges them to participate in activities that lead to personal growth and achievement, each Grade 9 student will participate in various volunteering opportunities, many of which exercise their leadership skills and result in increased self-confidence.
At KES, we believe that each student should have access to leadership opportunities that will increase their communication skills, confidence, responsibilities, and help them to develop negotiation and problem-solving skills, as well as discover new talents. We look forward to seeing all participating students thrive in their leadership roles this academic year.