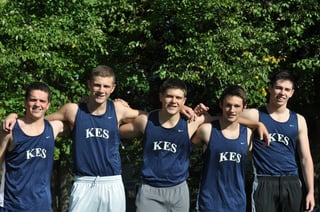 Most parents choose a private day and boarding school because they want their children to have as much personal attention as possible. As parents, you nurtured your children when they were very young and worked hard to ensure they received the very best in life. Knowing this one-on-one attention was beneficial when they were young, you choose to send your child to a private school because they will be in a small class, allowing low student to teacher ratios thereby allowing a teacher to give each student the individual attention he or she deserves.

At King's-Edgehill School, our students are not only surrounded by educational professionals who have each student's best interests in mind, but students are surrounded by other like-minded university bound students. KES parents know that who their child surrounds themselves with is almost as important as their education in determining their academic success. KES students are known for their driven and hardworking mindset and often have a positive impact on one another.


KES fosters these positive relationships in Grade 12 through "Prep Groups". Participation in Prep Groups is mandatory and consists of about 12 students. Prep Groups allow students to discuss various topics related to university preparation including types and levels of degree programmes, scholarships, how to find a university that is a good fit and much more. These Prep Groups further a KES student's chances of being accepted into their choice of university as it holds them accountable to what they say they are going to do and immerses them in an environment of other students who will be doing the same.

KES' commitment to a student's academic success begins long before senior year. KES has exams in Grade 7 onwards. We do this to avoid the inevitable anxiety associated with exams that are typically not done until grade ten. Early exposure helps relieve any apprehension associated with exams and by Grade 10, students are familiar with the exam setting and understand the preparation and skills required to do well.

KES also ensures each student is assigned an academic advisor from the moment they become a KES student. The academic advisor will guide them through their academic path, especially during their senior years, ensuring they are reaching their fullest academic potential.

Because KES understands the importance of ensuring students do well, we offer eight reports a year. Feedback is an essential element to successfully teaching and evaluating students, which is why the first report is sent one month into the school year. It is a simple report, but communicates the efforts a student is or is not demonstrating in the classroom. The midterm and end of term report cards are much more in-depth and capture effort and numeric grades.

In addition to our positive academic environment, KES also helps make our school affordable. We offer a financial assistance programme to aid families who believe in the advantage a KES education would give their child, but who are unable to meet the full financial commitment. We currently offer financial assistance to over 35% of the student body and the level of support is based on the availability of funds and information provided by the family.

At KES, our doors are always open – even on snow days! Some Nova Scotian winters can see a seemingly endless stream of storms, but at KES our school is always a go – even in the wildest of blizzards! With more than 60% of our student population boarding, and many of our faculty and staff living on campus, we rarely need to call a snow day!

For more information on why so many parents entrust their children to King's-Edgehill School, contact us to arrange a tour of the campus.