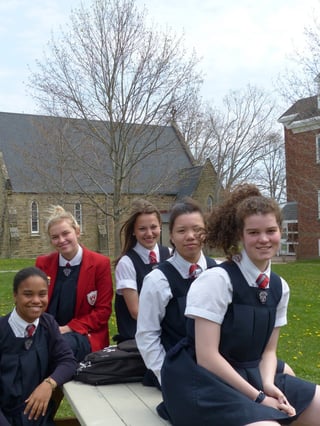 Wednesday, September 7th, marks the first day of the 2016-17 academic year and we are excited to welcome everyone back for another fun-filled year of learning, travel, athletics, arts, and more! There is already a buzz on campus with faculty doing professional development and prefects arriving this week. To help orient students and families as to what to expect at the start of the new school year here is an outline of our first couple of days:
Tuesday, September 6th
10:00-1:00 pm - New boarding students arrive
1:00 pm - New boarding students orientation
1:00-3:00 pm - Headmaster's Parent Reception in Alexandra Hall*
7:00 pm - All returning boarding students arrive
Wednesday, September 7th
8:10 am - Opening Day Assembly for all students at the Fountain Performing Arts Centre**
- Full day of classes, including sports
* The Headmaster's Parent Reception is a great opportunity for parents to meet with all KES faculty. It's a parent's opportunity to connect names with faces and start the year off knowing whom their children will be in contact with throughout the school year.
** Every year we also kick off the academic year with an opening assembly for all students. Faculty, coaches and staff will share information on this year's clubs, teams, trips and other opportunities for students to get involved and showcase their talents. KES students can expect regular school assemblies throughout the academic year as a way to celebrate successes and to learn from one another. For more information on KES School Assemblies, read the blog post entitled, The Magic of a School Assembly.
The school year officially kicks off on Day One. Following the Opening Day Assembly and advisor meetings students start Day One, but each class is shortened to allow students to get through all their classes in the first day. Typically there is enough time to meet their teacher, classmates, get a syllabus and learn about the plans for that year. The second school day is similar to Ground Hog Day as it is Day One all over again, but this time without an assembly and classes are regular length, so if you don't get it down on Day One, you can do it all over again on the second version of Day One.
At King's-Edgehill School we pride ourselves on keeping students and their families informed and updated about all school news and events. To stay informed and up to date on current events, bookmark the link to the KES School Calendar.
Another way KES keeps parents informed throughout the academic year is through the Parent/Student Portal. MY KES is a student and parent portal that was designed to keep parents and students up to date on theatrical performances, sporting events and more. It's the only Learning Management System designed specifically for private schools. MY KES makes it easy for parents and students to connect, communicate and share information with faculty, students, parents, and the entire school community.
As a parent, you can see all of the academic (report cards, attendance, class assignments, etc.) and co-curricular information related to your child. Students and parents also have access to Learning Profiles, which are plans developed to position student success; and parents also have access to team sport pages with team details, schedules, scoreboards, and more.
MY KES is a parent's complete information database for everything to do with their child. To access the information, log into your MY KES account, and go to the resources section of the site.
At KES, we want to make sure our parents and students are informed and feel welcomed into the KES family. The student's personal academic advisor is an important part of this process. Students meet with their advisors on the first day of school to review the student's class schedule and answer any questions and concerns a student may have. The academic advisor's role is to help student's navigate day-to-say life at KES and will stay with them until they finish junior school, at which point a dedicated senior school advisor will guide them through their final years. For more information on the role and benefits of an academic advisor.
The start of another school year brings with it a fresh slate ready to be filled with new adventures, friends and memories! We look forward to the new year and seeing new and familiar faces on the first day. For more information on becoming a student at King's-Edgehill School, download one of our student photojournals