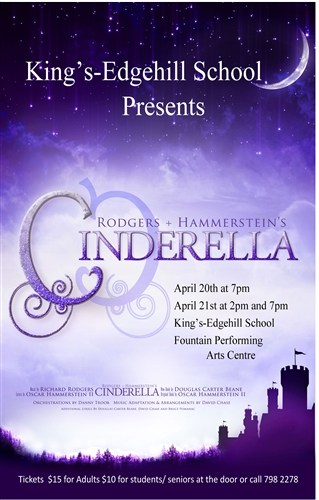 On April 20th and 21st, a timeless tale of transformation will unfold right before your eyes as the King's-Edgehill Junior School presents Rodgers and Hammerstein's Cinderella.

This classic musical features all the moments you love – an incredible transformation, the glass slipper, and the lush score of classic songs "In My Own Little Corner," "Impossible" and "Ten Minutes Ago." In this hilarious and romantic musical experience, see how everything can be possible when a little bit of magic combines with the immense power of hope and love.

Show times are Friday, April 20th at 7:00pm and Saturday, April 21st at 2:00pm and 7:00pm. Tickets are $15 for Adults and $10 for Students/Seniors. Tickets are available at the door or by calling 902-798-2278, ext. 3593.