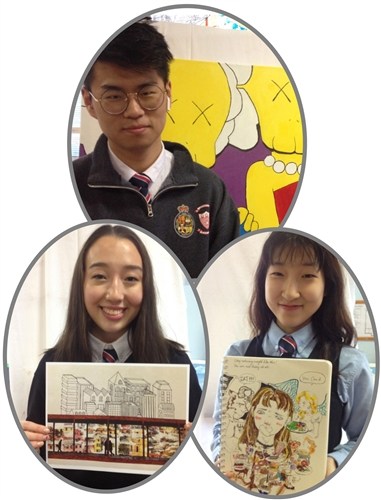 We hope to see you at our IB Art Exhibition Opening Night Reception on
Thursday, March 28, 2019
. This year we have 50 very talented Grade 11 and 12 IB Art Students who would be thrilled to discuss their creations with you.
Rayannah Hwang
has attended KES for five years. She was born in Korea and now lives in Falmouth.
I have chosen 'Building 1' as my favourite piece since it is one of my most recent works. I enjoyed working with the transfer technique, and it also includes ink and marker. I wanted to incorporate buildings into this work since the structures have always interested me. The middle of the drawing is the platform--through the glass you see colour then above the structure I wanted to draw the buildings as a skeleton or a minimalist view.
Future plans:
I plan to study Architecture.