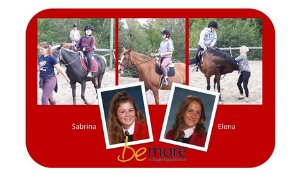 The Equestrian programme at King's-Edgehill School is enjoying the winter hiatus as the students move to winter-based sporting activities. The programme was in full swing in the fall and will ramp up again in the spring. In 2020, our programme caught the attention of a radio personality with Zoomer Radio. Susan Jamieson hosts By the Love of Horses. In November, Susan conducted a telephone interview with one of our current riders, Elena Julien (Grade 10) and alumna, Sabrina Corradini (Class of 2017). Elena is a seasoned rider in our Equestrian programme and Sabrina is an Assistant Trainer at Fox Hollow Stables. Both Elena and Sabrina recounted favourite horse stories and the elements that brought them both to King's-Edgehill School and the Equestrian programme.

Please click here to listen to their January 3rd podcast.

Look for more updates on our Equestrian programme when the spring programme starts.