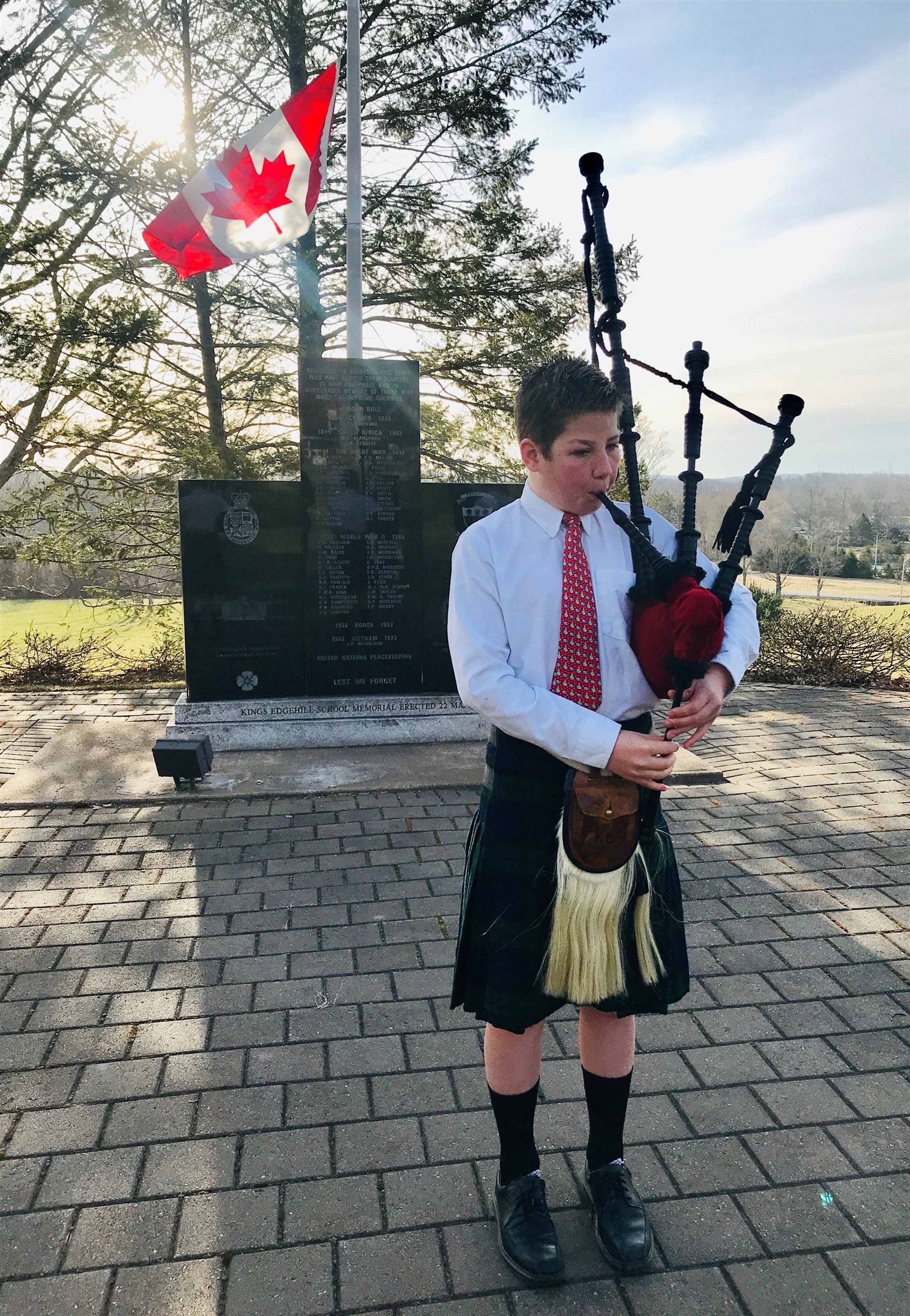 On Friday, April 24
th
, 2020, bagpipers across Canada and as far away as Scotland and Oman joined together in solidarity to play the well-known hymn,
Amazing Grace
, as a stirring tribute to the 22 Nova Scotians who lost their lives in the terrible killings that happened the weekend before. The event had its roots in Nova Scotia, but the desire to comfort the families of the victims spread quickly over the internet and around the world. Although separated by distance, the pipers played
Amazing Grace
at exactly 8 o'clock in the morning.
Chaz Faucher
, one of our youngest Grade 6 students, and
Mr. Pat LePoidevin
, our Junior School pipe instructor and teacher, had their bagpipes ready. It was the first day of our adjusted four-day school week, but they were up early in their respective towns to take part in this tribute. Dressed in his Highland kit, Chaz did our KES 254 Cadet Corps and our entire School community proud as he played
Amazing Grace
with heartfelt passion on our campus. A video of his performance was shared on a YouTube site along with the recordings of 153 other pipers. The event was featured on CTV National News, highlighting this beautiful tribute for viewers across Canada. Chaz can be very proud of his efforts last Friday; we are all very proud of him. He has been taking piping lessons from Pat LePoidevin for the past three years. It is a popular programme which now continues each Friday morning through Zoom practices online. Chaz is joined by other interested Junior School pipers:
Ann MacQuarrie, Caitlin Behan, Emily Mei, Ezra Sasaki, Gabby Shaw, Jacob Fines-Belcham, Sabine Wellard, Tanvi Manchineni, William Larder, Qiaoman Tracey, Nate Montgomery,
and
Kelly Bouwman
(our leading Senior School piper). I extend a sincere thank you to
Chaz
and
Mr. LePoidevin
for representing our entire community in this meaningful way.