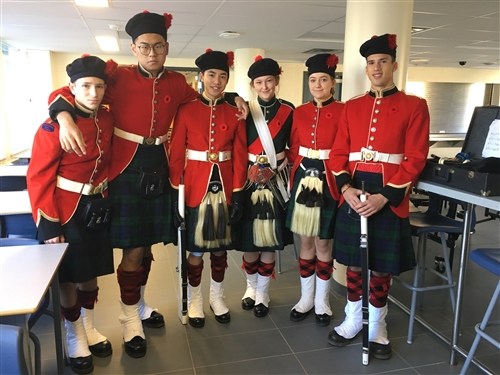 Our
254 Cadet Corps
was in full dress mode for Remembrance Day 2017. The Corps was spread out with 12 cadets in Ottawa under the guidance of Mr. Kevin Lakes as part of Operation Veteran. In the Town of Hantsport, a Flag Party commanded by
Sergeant Major Charlotte Hache
was piped on parade by
Master Corporal Grace Gallant
.
Click here
to see the video. The main body of the 254 paraded at the Cenotaph in the Town of Windsor. Though the day had a bit of a cold bite, there was very little effect on the individual cadets. As the
Regimental Sergeant Major, Chief Warrant Officer Ella Jollymore
gave the word of command – "By the Left – QUICK – MARCH", the Corps moved off and marched down to join the Veterans and the public at the Cenotaph. The cadets looked splendid -- some arrayed in traditional Highland dress and the others in Army Cadet Greens. The haunting notes of
Last Post
and the rousing
Reveille
were played by the
Corps Bugler, Sergeant Ella Brown
. The
Lament
was played by our own
Pipe Major, Warrant Officer Nicola du Toit
. The Vigil at the Cenotaph was commanded by the
Drill Sergeant Major, Master Warrant Officer Meredith Chambers
. The official wreath from the Corps was laid by none other than
Lachlan Campbell
, aspiring cadet and son of KES teacher
Mr Rory Campbell and Dr Amy MacDonald
.
Junior Cadet Campbell
was accompanied by
Sergeant
Major Julia Strickey
.