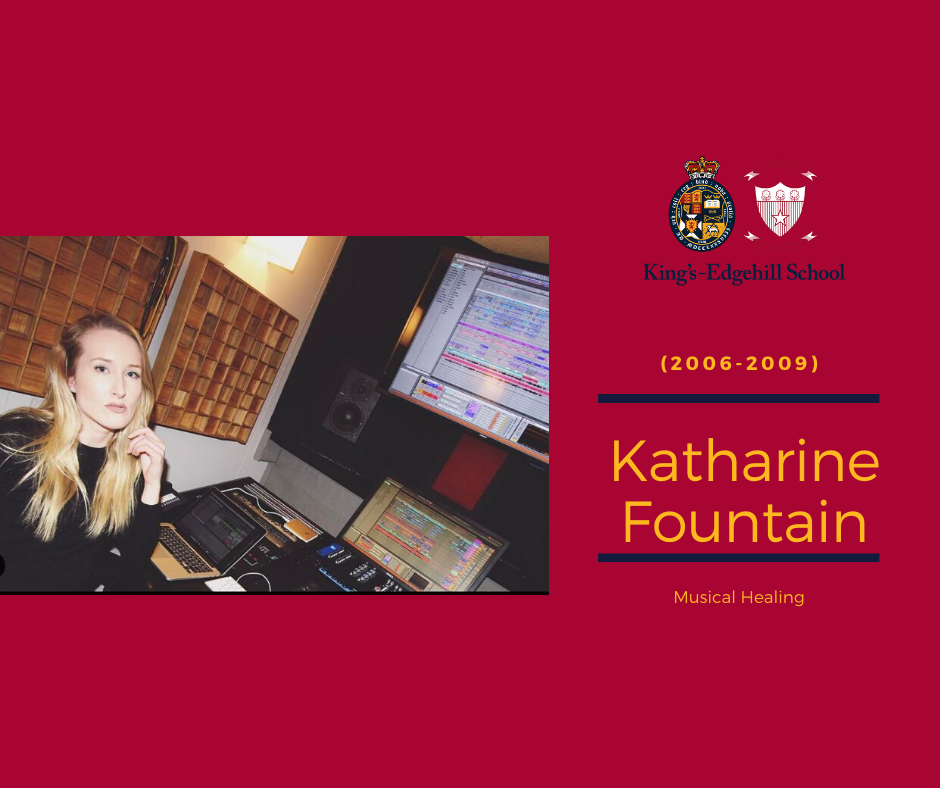 A big congratulations to

Katharine Fountain '09 (aka Fountains) on the release of her new single- "Breathe"!

You can learn more about Katharine's journey to becoming a producer, songwriter, and singer through this recent article in our King's Edgehill Times-Life Connections magazine.
I arrived at King's-Edgehill School in the fall 2006, an excited yet mildly terrified 15-year-old girl. I can still vividly remember the drive from my family's home in Head of St. Margaret's Bay to Windsor. The trip is only about 70 km, but when the red brick facade of Inglis House finally came into view it felt like we had been driving for hours. In an attempt to calm my nerves, I blasted Lauren Hill's 'Doo-Wop (That Thing)' on repeat as my dad's SUV huffed and puffed up Front Hill, sagging ever so slightly beneath the weight of 20 pairs of shoes that I would later discover weren't up to uniform code.
The decision to attend King's-Edgehill had always been mine to make. Numerous family members and family friends had gone before me, including my beloved Grandmother, Marjorie (Manning) Fountain (Edgehill, 1935-38), and my father, Fred Fountain (KCS 1962-66). My exposure to stories and photographs from their school days wrapped King's-Edgehill in an aura of folklore and tradition that very much intrigued me. In addition to this, I had been struggling to fit in at my local public school and was longing for a fresh start -- King's-Edgehill was my opportunity to get one. The decision was an easy one to make, and I've never looked back.
The summer before I began, a family friend assured me that it would be a wonderful experience, and that the years he spent at the School were some of the happiest years of his life. Nearly ten years have now passed since my graduation, and looking back, I can say that this sentiment rings true for my own experience. The 3 years that I spent at KES were joyful, stimulating and filled with adventure - some of my happiest memories exist in that era of my mind.
Throughout this time, I truly flourished as the School challenged me and laid the foundation for the young woman who I was quickly becoming. I excelled academically, travelled the world with my peers to faraway places such as Kenya and Greece, and fell asleep in a dormitory with girls who I still consider to be among my closest friends. I even met my first love - a boy who attended rival school Avon View, during a snowboard race at Martock. It wasn't always easy being away from home, the workload was tough and the expectations high, but I was happy to be there.
Much of my time outside of classes and sports was spent making music. I played guitar and sang in jazz band, and spent 2 years playing clarinet in cadet band before switching to the drumline in Grade 12. I sang in the choir, joined the cast of a few musicals, and took guitar lessons. Despite this, I don't think that I was particularly known for being a musician, or expected to continue with it in any professional capacity. A lot of people were actually quite surprised by my foray into the music industry, but the truth is that I think I've always known that I wanted to be a singer and make music for a living.
There are a number of reasons why I initially resisted this career path, but I think the main reason was that at this point in my life, it just didn't seem realistic or practical (two words I loathe). I'll admit that I was a really intense teenager, and I had my entire life laid out to resemble something out of one of Cecily von Ziegesar's Gossip Girl novels. I was accepted into McGill University's Desautel's Faculty of Management, and set off for Montreal following my graduation from KES in 2009. My Dad's SUV sagged beneath the weight of my shoes once again, except this time halfway up Mont Royal to my new dorm room in Gardner Hall.
It's both sobering and terrifying how your entire life as you know it can shatter around you in a single instant, and that's just what happened to me the night after I moved in to my dorm at McGill. I was half asleep when I received an unusually late-night phone call from my Grandmother saying that my older brother, Alex, had failed to show up for dinner that evening. Finally, after countless phone calls, I listened in disbelief as a police officer back in Nova Scotia informed us that Alex had died by suicide. To this day, I still can't believe that that actually happened, it's still too enormous and painful for my mind to process. Alex, my only brother and best friend, was gone. Forever.
In writing this article, I struggled greatly to decide how and if I should talk about Alex. But the reality is that it would be impossible for me to talk about my journey into the music industry without first acknowledging his death, and the subsequent ways in which it affected me. I decided to proceed with my studies at McGill following his funeral, but despite my best efforts to keep it together, my world felt like it was falling apart.
For the first time in my life, I failed classes, and for the first time in my life, I didn't really care. I wanted to care, but I somehow just didn't - it was like my mind refused to hold on to any information. I failed both calculus and statistics twice, partied too much and generally had a negative attitude towards everything. Despite this, I desperately did not want to fail out of McGill, and scraped by as best I could until things started to shift in my second year.
My dear friend and fellow KES graduate, Mikaela Dimick (2001- 08) was also studying at McGill, and convinced me to attend a yoga class with her one afternoon. Yoga seemed to offer me some sense of mental clarity, and soon we were attending classes together almost every night. I really credit Mikaela with helping to pull me out of grief and sticking by me through those difficult times. I found that as I started respecting myself and my body through my yoga practice, I felt motivated to take similar action in other areas of my life. As I slowly began to clean up my act in Montreal, I felt my desire to create music return with an intensity that was hard to ignore. Listening to music had helped me cope with the tragedy, but up until this point I had felt little desire to sing or play since Alex had passed away. On one trip home, I asked my Mom if I could have my brother's acoustic guitar, an Ibanez, and she readily obliged. I took it back with me to Montreal, and went on to spend every spare moment with the instrument, constantly playing and singing and attempting to write songs. It made me feel like I had purpose in my life for the first time in years.
I made the decision to pursue music professionally in 2012. I really didn't know how or where to start, but I just decided that I would put myself out there as much as possible and take any opportunity that I could get to perform. I set a goal to play 40 open mics that summer I'm not sure why I chose 40, but it was a number that seemed ambitious yet attainable. I played anywhere that would have me, sometimes travelling to two venues in one night. Name a dive bar in Montreal and I have probably performed there! I remember being extremely nervous the first time I got up on stage at an open mic, but the feeling that I got from connecting with an audience was incredible and left me hungry for more. Of course, not every night went well, but I learned just as much from the bad nights as I did from the good ones. I continued playing gigs and writing songs as I finished up my degree at McGill. Even though I knew that I most likely wouldn't be jumping into the corporate world following my graduation, it was extremely important to me that I finish my programme and graduate. I knew that if I could get through McGill under the circumstances in which I started, that I could get through anything. In May 2014, I graduated with my Bachelor of Commerce. It remains one of my proudest achievements.
I moved back home to Nova Scotia for a year while I tried to figured out how I was going to make a career out of music. It was during this time that I took up vocal lessons with a teacher named Jason Davis from the Maritime Conservatory of Music, who encouraged me to audition for a spot at Berklee College of Music in Boston, Massachusetts. I had been set on studying music in New York City, and had never even been to Boston before, but I decided to give it a shot. I was accepted into their Bachelor of Music Program, and moved to Boston to begin my studies in the fall of 2015. It was my plan to major in songwriting and performance, but if my journey to this point had taught me anything, it was that even the most carefully laid out plans are subject to change. I was introduced to the world of music production and sound design during a compulsory music technology class that I took during my first semester, and was amazed by the possibilities of what I could create with just my laptop and minimal equipment. I decided to continue with my Songwriting major, but picked up a second major in Electronic Production & Sound Design. I've really invested myself in my education at Berklee, and it has rewarded me in return. I've interned at studios in both Cambridge and New York City, travelled to Berlin to attend Ableton Loop (a music production summit), and even earned an academic scholarship. After I'm done at Berklee, I hope to move to New York City to pursue a career in writing and producing music for both myself and for others. I am also interested in doing sound design work within other areas of media, such as film and virtual reality, and working in music production software development. There are so many areas within the music industry where one can carve out a rewarding career beyond the scope of just being an artist. I think that many people are afraid to pursue music because the odds of making it big as an artist are against you and it is difficult to make a living in this industry. But there are so many moving pieces behind the scenes that come together to make the music that we enjoy as listeners a reality. You can find work in the music industry without actually being a musician yourself. There are jobs in touring, management, publishing, engineering, radio, production, songwriting...the list goes on.
I wanted to create a music production studio at King's-Edgehill so that students could have access to some of the tools that artists and producers who work in the music industry use every day, and also open their eyes to new possibilities of what they can do once they graduate. I hope that the space inspires students to develop their musical and technical skills, collaborate with others, and express their creativity. I'm really excited for them to have this space, and I can't wait to hear the music that comes out of it!
If I could offer any advice or words of wisdom to current KES students, I would say be open to change and new experiences. Try your best to embrace every opportunity that comes your way, even if it doesn't seem like it is something that will interest you at first. Trying new things allows you to discover things about yourself that you might not otherwise. When I started at Berklee, I never imagined that I'd become a producer, but here I am and I couldn't imagine doing anything else. It's okay if it takes time to figure out who you are and what you want to do with your life. Try not to be bound by other people's expectations of who they think that you should be. Life is short and life is fragile. This is your life. Spend it doing something that makes you happy. Secondly, it's okay to fail. It may feel like the end of the world at the moment, but what really matters is that you never give up and that you are able to learn from failure. I learned more about grit and tenacity from having to retake the classes that I failed at McGill than I did from the actual lectures themselves, and those lessons have been invaluable to me. It's okay if you don't get something the first time, or even the second time. If you really want something, you can achieve it -- you just have to stay focused and work hard. Never give up. Lastly, respect others and be kind to people. You never know what somebody might be going through. A seemingly simple gesture can mean the world to someone who is struggling. Put good into the world and good things will make their way back to you.
Our students – past and present – make King's-Edgehill School great. We'd love to stay in touch with you, and ensure you stay in touch with each other. Have a look at all the benefits of staying connected here.
Read More
Topics: About King's-Edgehill School, KES Alumni