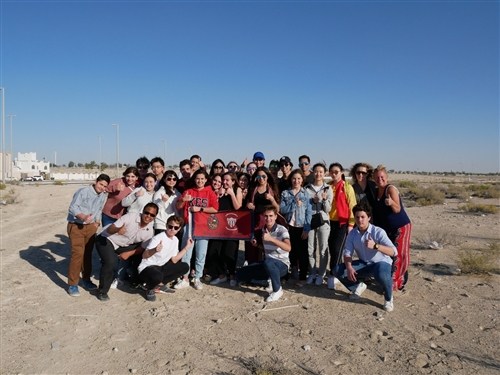 KES was very pleased to offer a new and exciting travel opportunity for our students this year. Twenty-five students and four chaperones had the incredible privilege of visiting the United Arab Emirates during our recent March break. This amazing venture to the Middle East was a first for KES.


Our group enjoyed perfect spring weather as we explored Dubai, Abu Dhabi and Al Ain. March is one of the best times to visit the UAE. Winter has just ended, and the days are warmer but not too hot! We enjoyed the hustle and bustle of Dubai, taking in the iconic Burj Khalifa, exploring old residential Dubai, bartering in the gold and spice souqs, and of course, lavish shopping in the famous Dubai Mall. Let's not forget the food – it was divine. From lean, grilled meats, to flavourful hummus, fresh tabbouleh and fattoush, and warm Arabic bread. Everything was delicious!
Ms. Stewart
and I raved about an incredible bowl of hummus that we ate – perfectly smooth with spicy chicken shawarma and pomegranate on top. Just amazing! Take me back!