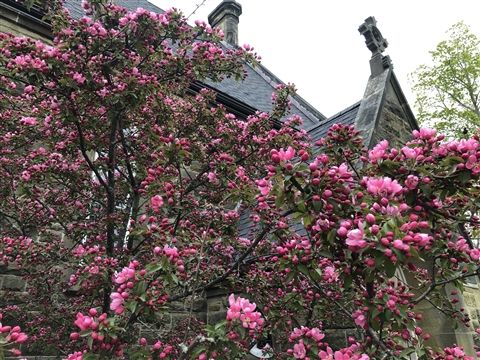 Dear KES Family:
I did not think I would feel this way. Despite having an empty campus this term, the familiar mixture of sadness and exhilaration is still making its presence felt. That end-of-year feeling overwhelmed me after yesterday's final Chapel service, and I barely held it together while watching the Arts Gala on Tuesday or listening to the final Podcast this morning (hosted by grads Eva Redmond and Duncan McLaughlin).
In her Grade 9 Graduation valedictory address last night, Jessica Ugwoke spoke about coming to the School from her home in Newfoundland and finding a new home at KES. She described the sense of belonging and support she felt when she arrived, calling KES her "emotional home". What a wonderful thing to be able to say about one's school!
This sentiment is expressed time and time again in the Podcast by the graduates of the Class of 2020. Whether it is Duncan McLaughlin describing catching for his brother who was pitching during the School's first baseball game, or Ava Benedict saying that KES has "just been like my family", or Emily Coady expressing how she instantly felt a "huge sense of family", it is clear that there is a special closeness which binds us. KES feels, figuratively and literally, like family. The feeling expressed by Jessica in Grade 9 is echoed by Class of 2020 grad Heavyn Beals' recollection of when she came to campus "it just felt like home".
This is why all spring we have missed each other so much. The campus, the nest, has been empty. Our family gone, our home has not felt the same. (Just watch the Fauchers' hilarious three-part mini-series on our YouTube channel, and you will see how crazy we have all been without everyone around.)
However, despite the distance between us, we have maintained our connection to each other. Through imaginative use of technology, we have preserved the emotional home. It sounds so cliché but, although we are not together, we have never really been apart.
Huge hugs to all. The KES family is alive and well. (As are the ravens, thank goodness!) Congratulations to all.