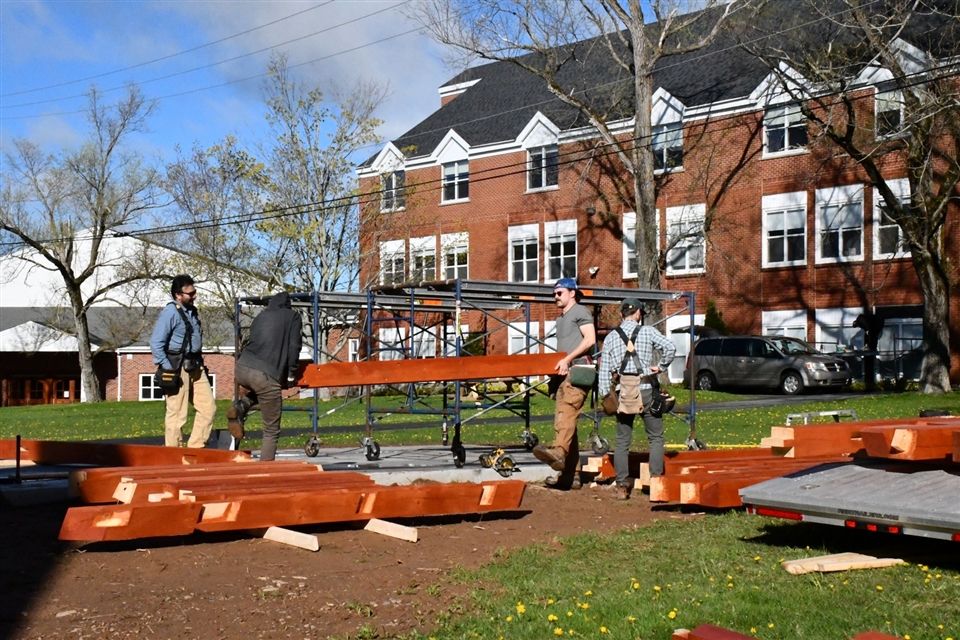 Dear KES Family:
Here we are. It is a beautiful sunny day. Blossoms are bursting forth, grass is being cut, the new Learning Pavillion's main structure assembled (gorgeous!), and every single test result has come back negative. Whether it is on or off campus, staff and students or close contacts of the original positive test result, every result continues to be negative.
This morning I asked our very happy
School Nurse, Sue Cole
, what this means. Her answer was immediate and simple. "It means we are awesome!"
It means that the affected staff member was awesome at sticking to health protocols before and after learning of the positive result. (It is still a mystery where the infection was picked up.) It means that since September the cleaning staff has been awesome at sterilizing high touch areas and keeping the School safe. It means that everyone, from staff to students to visitors, have been adhering to the rules just in case we had a positive case. It means that all this effort since September was worth it. Imagine that…a boarding school with in-person classes and full daily sports and clubs programmes, has a confirmed case of COVID-19 amongst its residential faculty and no one else gets the virus. It is awesome indeed.
Our close contacts remain in isolation but having just received their second negative test result, we are pretty confident their release to freedom on Wednesday at midnight won't be extended.
It has been a record year for admissions. Be it Canadian students or International, we have been receiving more applications for next year than ever before. The pace has not slowed in recent weeks despite the third wave which has rushed through most of Canada. This week I interviewed a thoughtful young woman from Nova Scotia. When I asked her why she wanted to come to KES she replied: "I want my high school years to be ones that I remember with fondness and excitement, and not simply a period of time that I have to endure before I get on with my life."
Our Head Boy this year is
Righo Etou
. Before he departed this week for his new home in Montreal, he came to my office to say goodbye. We took a moment to reflect on his journey here. "King's", he said, "has been my home for so many years."
Righo came into boarding from Congo when he was ten years old, speaking beautiful French but very little English. Despite being the youngest in his class, he was always the tallest and the gentlest and kindest soul around. It was with fondness and excitement that we reminisced over his time. Righo had just turned 12 when we summited Mount Kilimanjaro together. He was always "up" for anything. Be it battling hard with
Mackenzie Smith
in basketball, playing percussion and rugby alongside
Jem Logan
, or ordering calamari at every opportunity, Righo's high school years were anything but a 'period of time that he had to endure'.
Outside my office window right now is
Tammy Lazo de la Vega (Class of 2021)
. She leaves for Mexico soon and is taking pictures of her home: Jodrey House. Like so many students at our School, she has immersed herself into everything and created a rich and multi-dimensional experience that she will be able to look back upon with fondness and excitement.
The pandemic has changed the way we thought the school year would end. However, each one of our students can look back upon this year and be immensely proud of how much they have done despite every challenge they have faced. From shattering all previous records for our Terry Fox Run to having the only Remembrance Day service in the province, having two theatrical performances and a spectacular Arts Review and Cultural Fair, winning Silver at the national debating tournament and placing fourth in the world in robotics, we have done things safely and to an exceptionally high standard.
As online classes will continue into June, each day brings another departure for home. While I am sad to see each student leave, I am proud of all they have accomplished. Keeping their friends safe is perhaps their biggest accomplishment of all.